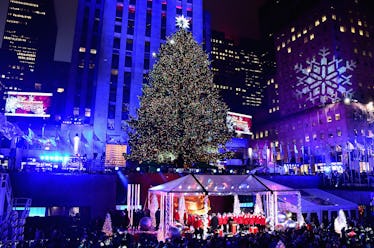 Twitter Is Straight Roasting Matt Lauer Missing The Rockefeller Tree Lighting &, Awkward
Theo Wargo/Getty Images Entertainment/Getty Images
NBC's coverage of the Rockefeller Center tree lighting was a little less merry this year. Just hours before the ceremony took place, it was announced that long-time NBC anchor Matt Lauer had been fired over an allegation of sexual harassment. Tweets about Matt Lauer and the Rockefeller tree lighting are so, so awkward because, honestly, the timing of the whole holiday celebration could not have been worse.
On Nov. 29, Savannah Guthrie, Hoda Kotb, and Al Roker were all smiles as they gathered together to celebrate some good old-fashioned Christmas cheer. Noticeably absent was Lauer, who has been a fixture at the annual tree lighting ceremony for years. According to Page Six, the network really had to hustle with scrubbing away all signs of their former anchor — especially given the fact that he was already in a lot of the footage.
"Much of that has been pre-taped already," an insider told the publication. "They must be scrambling to figure out how to edit around that. Awkward!"
While there was no sign of Lauer at all during the airing of NBC's coverage, some traces remained. Like, if you watched the footage on television, Lauer's name is still listed alongside the rest of his colleagues.
Twitter couldn't quite get over how awkward this tree lighting ceremony had become.
Thankfully, a disgraced, drunken Lauer dressed as Santa Claus did not stumble his way towards Rockefeller Center this evening. Though, at this point, very little would surprise me.
Since the announcement of Lauer's firing, multiple sexual harassment allegations have come spiraling out, all of which include some pretty horrifying details. Elite Daily reached out to a representative of Lauer for comment but did not hear back at time of publication.
According to a Nov. 29 report from Variety, Lauer allegedly showed his penis to a female co-worker (then chastised her for not wanting to engage in a sexual activity with him), gave a female co-worker a sex toy as a present, and publicly discussed which of his female co-workers he most wanted to sleep with.
Lauer also reportedly had a button under his desk which he would use to lock the door from the inside. This allegedly allowed the news anchor to invite female colleagues into his office, initiate inappropriate behavior, and not have to worry about anyone walking in and catching him.
A former NBC staffer told The New York Times that Lauer once called her into his office in 2001, locked the door, and sexually assaulted her. She told the Times that she didn't report the alleged assault because she was worried that she would lose her job.
NBC News Chairman Andy Lack released a statement on Nov. 29 saying he was "deeply saddened by this turn of events." He wrote,
On Monday night, we received a detailed complaint from a colleague about inappropriate sexual behavior in the workplace by Matt Lauer. It represented, after serious review, a clear violation of our company's standards. As a result, we've decided to terminate his employment. While it is the first complaint about his behavior in the over twenty years he's been at NBC News, we were also presented with reason to believe this may not have been an isolated incident.
Lack claimed that the allegation was the first report against Lauer in the 20 years that he had worked at NBC.
Savannah Guthrie and Hoda Kotb, two of Lauer's former NBC co-workers, appeared shocked when they announced the sexual misconduct allegation news. Guthrie said,
We just learned this moments ago, just this morning. As I'm sure you can imagine, we are devastated. We are still processing all of this. And I will tell you right now we do not know more than what I just shared with you. But we will be covering this story as reporters, as journalists.
Looks like we'll just have to wait and see what unfolds next.