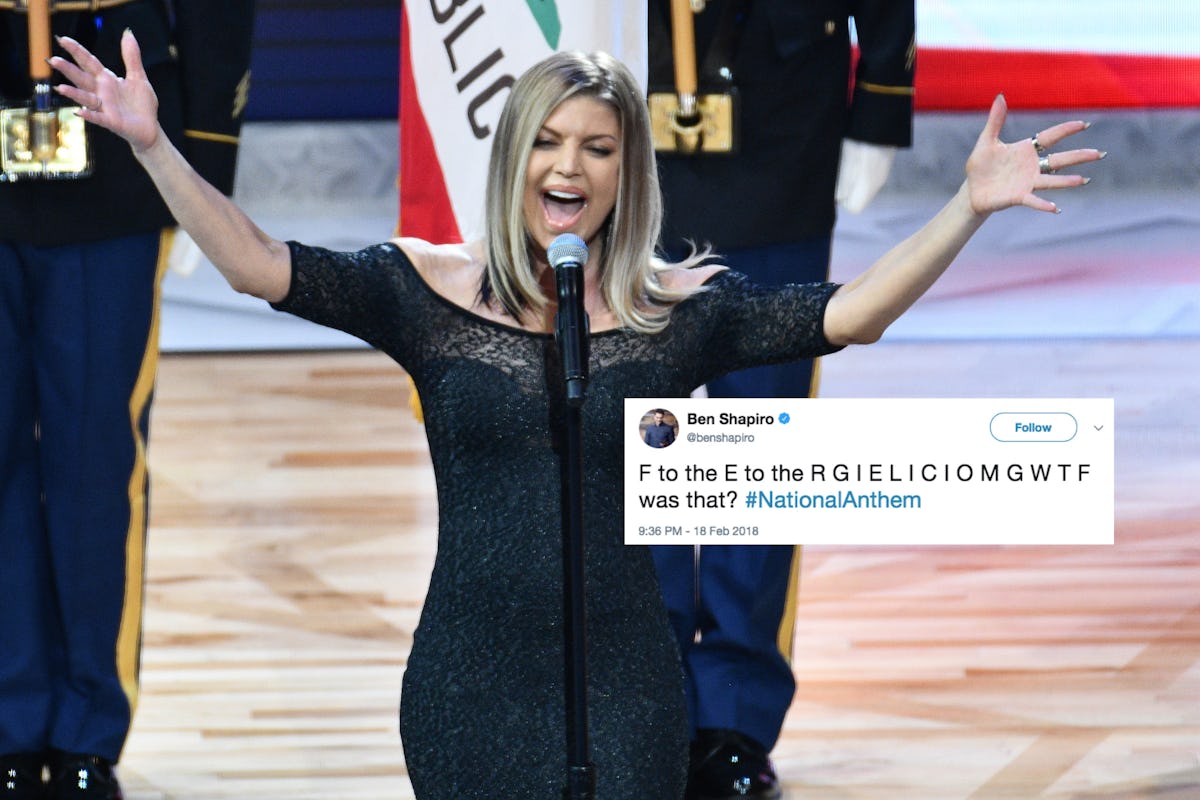 Fergie Gave The Weirdest Performance Of The National Anthem & Twitter Can't Deal
The National Anthem is one of the hardest songs to sing well. The only person it wasn't hard for was Whitney Houston because obviously. But Fergie tried her hand at it this weekend when she performed at the NBA All-Star Game, and it was, uh, interesting. It's not like her voice cracked or she forgot the words, homegirl just did some weird sh*t with the notes and Twitter can't handle it. The tweets about Fergie's National Anthem performance at the NBA All-Star game are hilarious and show that while we might be a divided nation right now, we can all agree that this performance was weird AF. The power of music!!
UPDATE: On Feb. 19, Fergie issued an apology to TMZ on her National Anthem performance. She told the outlet, "I've always been honored and proud to perform the national anthem and last night I wanted to try something special for the NBA. I'm a risk taker artistically, but clearly this rendition didn't strike the intended tone. I love this country and honestly tried my best."
EARLIER: The NBA All-Star game happens every year and the event is always star-studded. The NBA's best players team up for a game and lots of celebrities come out to watch it. Beyoncé and Blue Ivy Carter were in the front row of this year's game, Chance The Rapper was there, Cardi B was there, Jimmy Kimmel was there, and lots of other celebrities and athletes watched as Fergie sang her jazz version of the National Anthem. Yes, you read that right. Fergie sang a jazz version of "The Star Spangled Banner." There are plenty of people on Twitter telling haters to leave Fergie alone and commending her for trying something different (Shaquille O'Neal was one of the game's commentators and he tried to defend her saying, "It was different, it was sexy"), but most everyone else was like, "Girl, what are you doing?!"
I'll let you decide how you feel about this, though.
Twitter can't handle it at all. The performance is still one of the top trends as of the morning of Feb. 19. (The game aired on Sunday, Feb. 18 at 8 p.m. on TNT.)
People pretty much forgot about the game and only talked about Fergie.
As Fergie was singing, the camera does what it always does during performances of the National Anthem: It pans the audience for responses. It just so happens many of the people in this particular audience are hella famous, and their reactions to Fergie's performance will make you cringe.
Chance The Rapper was caught laughing a bit.
Jimmy Kimmel was, too.
Even the players were like, "LOL, what?"
One thing we can thank Fergie for after this performance is all of the incredible memes that have come out of it.
Whenever a singer butchers the National Anthem, people always talk about Whitney Houston's performance of the song at the 1991 Super Bowl.
Most people are of the opinion that Houston's performance is the greatest of all time, so it makes sense that people would talk about Houston after some other singer really messes it up. And this time is no different.
People are re-watching the video of Whitney Houston's National Anthem and leaving notes for Fergie in the comments section.
I just wish the camera had panned over to Beyoncé and Blue Ivy while she was singing. I would pay a lot of money to see Queen Bey's reaction to this.
Lots of people on Twitter couldn't get over the fact that Beyoncé was witnessing all of this in person, too.
Beyoncé actually sang the National Anthem at an NBA All-Star game in the past, back when Destiny's Child was still together. Twitter didn't forget this.
Let's throw some positivity in here though because it's 2018 and that's what this year is all about!! I give Fergie props for trying to take a new spin on the National Anthem. It's a tricky song to sing and everyone has their own opinions about how it should be sung, so going out there with confidence in your new version is the most important thing. And no one can deny that Fergie was hella confident to perform the song this way. Would I have suggested a jazz rendition? Hellllllll no. But hey, good for her for trying to make her own mark on the song, right? Right?! Great, awesome, cool. Good game, guys. Way to hustle out there.