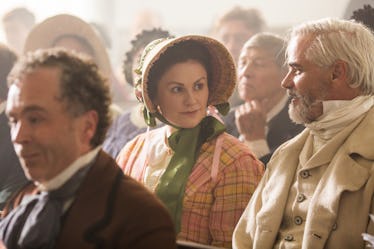 13 Tweets About 'Alias Grace' That Will Make You Even More Obsessed With The Show
Netflix
While some of you were still having a Stranger Things 2 hangover last weekend, Netflix was moving and grooving, releasing their next major masterpiece of episodic television, Alias Grace. Adapted from the 1996 Margaret Atwood novel of the same name, this show, like The Handmaid's Tale before it, is a sumptuous production themed around the rights of women (and lack thereof) and how the patriarchy hurts everyone. But you don't have to take my word for it. These tweets about Alias Grace are proof enough that everyone who has sat down and watched it has loved the heck out of Margaret Atwood's period piece.
For those unfamiliar with the novel, Alias Grace is a work of historical fiction, based on the true crime story of Grace Marks. In 1843, Marks was accused, tried and convicted of the murder of her employer, Thomas Kinnear, and his housekeeper (and lover), Nancy Montgomery. She was just 16 years old. Her accomplice, 25 year old James McDermott was also tried, convicted, and hanged for their murders. Marks was originally sentenced to hang, but her sentence was commuted to 30 years prison, by reason of possible insanity.
Almost a decade into her imprisonment, Dr. Simon Jordan comes to visit her. He is studying the nascent field of mental health, and his goal is to figure out if Grace is innocent or guilty. Over the course of six episodes, Grace tells Dr. Jordan her story.
It's true. The Handmaid's Tale arrived just as Trump and Pence made their first push to repeal women's health rights. Alias Grace is a tale of how men in power sexually harass and abuse the women who are unable to push back, and it arrived right after a month of seeing wave after wave of men accused of sexual abusing female coworkers and underlings.
Alias Grace was filmed as a co-production with the CBC, Canada's Public Broadcasting. The six episodes aired over a six week period up north, finishing up the Monday before Netflix releases it to the states.
Alias Grace is only six episodes, most of which are ~45 minutes long. We calculate the entire series can be consumed in just under 4.5 hours, all told.
The themes of how men treat women badly, and in their oppressed state they cannot fight back, or even allow themselves to feel rage is one that many women can relate to.
Sarah Gadon's performance as Grace Marks is the heart of the show, and her lines are quotable for days.
Check out this scene where Gadon knocks Mark's monologue out of the park. Basically, imagine a show which is 6 hours of this kind of good stuff. Why haven't you started it yet?
For those who worry it's all rage against the men and their machines, don't worry. Some of these home truths are universal.
Still, the theme of Atwood's novel is in line with the themes of Handmaid's Tale. What's the phrase I've heard so often recently? "Men are afraid women will make fun of them. Women are afraid men will kill them."
Oh wait! That's actually a saying *based on something Margaret Atwood wrote.*
Novelist Margaret Atwood writes that when she asked a male friend why men feel threatened by women, he answered, 'They are afraid women will laugh at them.' When she asked a group of women why they feel threatened by men, they said, 'We're afraid of being killed.'
Of course, for some, it's the allure of the unspoken romance that forms between Jordan and Grace in there many hours talking that gets them to keep pressing "next episode."
Not to mention the production values, and the acting. (Lorenzo is right, the costumes are divine.)
Some tuned in for the mystery. Did Grace do it? Or didn't she? To find out, you'll have to watch the show.
It's a rainy night, and it's the anniversary of the election tomorrow. Turn off, tune in, drop out and spend time watching this instead.
Yes, we can. All day long. Anyone who hasn't watched this show yet, get on that.
Alias Grace is streaming now on Netflix.