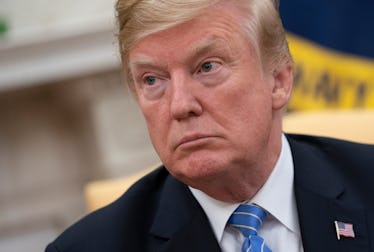 An All-Male Team Is Managing Trump's SCOTUS Pick, & Abortion Advocates Are Worried
Pool/Getty Images News/Getty Images
By now, you've heard the news that Supreme Court Justice Anthony Kennedy is on his way out, and President Donald Trump has the opportunity to pick his replacement. The drama hasn't really stopped pouring in since the news broke, and the latest update in it all shows that nothing about that is changing. Trump's Supreme Court nominee is being overseen by an all-male team, and: yikes.
The White House reorganized its staff as of July 2 to focus on selecting and confirming Trump's appointee for the Supreme Court — a move that has worried abortion advocates, as Trump's pick could allow him to gain conservative control in the nation's highest court and jeopardize landmark cases like Roe v. Wade, which in 1973 gave women the federal right to access abortion. According to The New York Times, Donald F. McGahn II, the White House counsel, will lead the process to fill the seat, while Justin Clark, the director of the Office of Public Liaison, will handle the job of working with conservative organizations. Raj Shah, the Principal Deputy Press Secretary, will temporarily leave his role to oversee communication with Capitol Hill allies on behalf of whoever the president nominates as a justice.
White House Press Secretary Sarah Huckabee Sanders announced the news via statement, saying:
Teams of attorneys from the White House Counsel's Office and Department of Justice are working to ensure the president has all the information he needs to choose his nominee. The Department of Justice is fully engaged to support the nomination and confirmation efforts.
What makes the reorganization disturbing — and extremely ironic — is that it only includes men overseeing the appointment of a Supreme Court justice who will almost certainly attempt to roll back or reshape women's health laws. Reproductive rights advocates are enormously worried about this court appointment, since Trump has promised to appoint Supreme Court justices who would overturn abortion rights case Roe v. Wade. Since Justice Kennedy was known for repeatedly reaffirming a woman's right to choose, an anti-abortion justice on the court could reshape women's access to abortion care for years to come. It's an outcome that many pro-choice advocates have feared.
Dawn Laguens, the Executive Vice President of Planned Parenthood Federation of America, expressed her concerns in a statement to Elite Daily, saying:
When it comes to picking a Supreme Court nominee that could reshape women's health in the United States for generations, the White House builds a task force of male team leaders and anti-abortion groups. It looks like Trump's team is organized to implement his anti-abortion Trump test.
Trump is expected to make his decision about a nominee "over the next few days," per The Hill. But he's already interviewed four candidates, and only has plans to interview another two or three more from a previously published list of 25 candidates. Trump hasn't offered up much information about whom he might choose for the seat, but told reporters on July 2:
They are outstanding people. They are really incredible people in so many different ways. I had a very, very interesting morning.
He added, "The person that is chosen will be outstanding."
On Friday, June 29, Trump did, however, admit, that he'd narrowed his list of potential nominees to five, which included two women, who he said were "generally conservative," according to Reuters. He also reportedly said he won't be asking candidates whether or not they would support overturning Roe v. Wade, so there's that. But considering Trump's own tendency to spread misinformation, I wouldn't blame anyone for not getting their hopes up.
Even so, these are only the beginning stages in the selection of a new justice. Here's hoping that the outcome is, somehow, a good one.