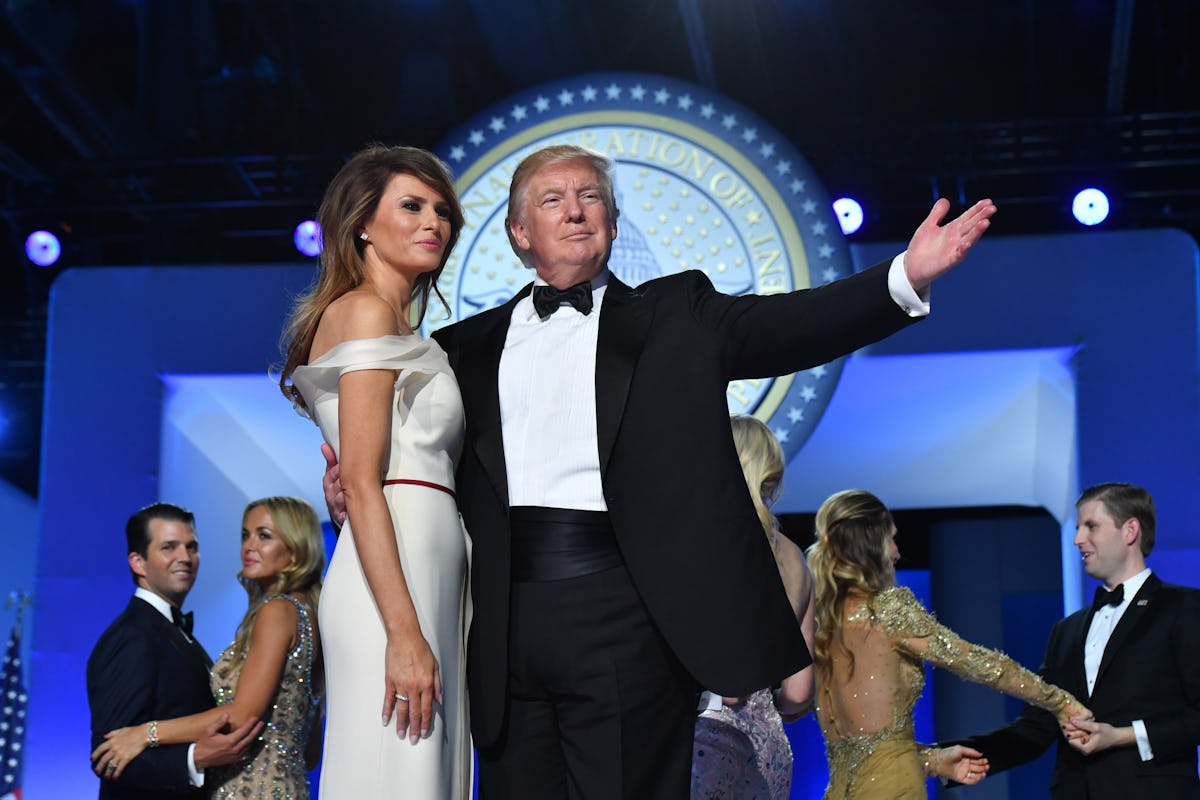 Trump's Celebrating One Year In Office With A Super Expensive Party At Mar-a-Lago
Pool/Getty Images News/Getty Images
With President Donald Trump approaching one full year in office, plans are in place to celebrate in the same way his family always does on big occasions: with an expensive event at his Mar-a-Lago club in South Florida. The event will be held on Saturday, Jan. 20, and guests in attendance will be treated to dinner and a photograph with the president. That luxury will come at a high cost, though, because Trump's inauguration anniversary party at Mar-a-Lago costs $100,000 per pair, at least.
For more than double that base price, a couple can also purchase a $250,000 ticket that will allow attendees to participate in a roundtable, according to a report from Bloomberg on Thursday night, Jan. 18.
The Dinner Will Help Trump's Reelection Efforts
The dinner is both a celebration of a milestone and a fundraiser for Trump's second presidential campaign. Last January, before he'd spent a month in office, the president proactively declared himself a candidate for the 2020 president race and proceeded to set up his reelection campaign.
As part of that campaign, Trump's team set up a tour of fundraising events, Politico reported back in August. The celebration at Mar-a-Lago is now, seemingly, one of those events. The dinner's political ties are made all the more obvious by the fact that it will be hosted by Ronna Romney McDaniel, the chair of the Republican National Committee.
Back in August, McDaniel spoke to Politico about the virtue of early proactive campaign efforts. "We're already engaging voters and volunteers in key battleground states to defend our majorities in 2018 and to ensure we keep the White House in 2020" McDaniel said.
Trump's Trip To Mar-a-Lago In Doubt
At the time Bloomberg's report about the anniversary celebration was published, it was unclear whether Trump's plans to travel from Washington D.C. to Florida would stand.
That's because the federal government's current budget agreement expires on Friday night, Jan. 19. As of Friday morning, the Senate had not passed a new funding agreement — an agreement that already pass through the House on Thursday. That means that the risk of a government shutdown coincides with Trump's plans to travel away to his Palm Beach resort.
Because of that fact, the White House announced on Friday morning that Trump would not be traveling to Florida unless Congress passes a new "CR" (a continuing resolution that would keep the government operating).
Before that White House announcement came, Trump took to Twitter to comment on the threat of a government shut down.
"Government Funding Bill past last night in the House of Representatives," Trump wrote. "Now Democrats are needed if it is to pass in the Senate — but they want illegal immigration and weak borders. Shutdown coming? We need more Republican victories in 2018!"
The Possibility Of A Government Shutdown
Entering Friday morning, Congress members are at an impasse in budget negotiations. Central to the disagreement between Democrats and Republicans on the issue is the fact that protections for DACA recipients are not part of the deal to keep the government operating.
As deadline for a government shutdown draws closer, both parties are blaming the other for a lack of progress.
"My Democratic colleagues' demand on illegal immigration at the behest of their far-left base have crowded out all other important business," Senate Majority Leader Mitch McConnell (R-KY) said on Capitol Hill on Thursday night. "I think the American people clearly would not expect us to act this way."
House Minority Whip Steny Hoyer, for his part, said that the Republicans are showing an inability to govern. He tweeted, "The bill passed by @HouseGOP last night is further proof of their inability to govern. It's time for them to work with Democrats to responsibly fund government, #ProtectDREAMers, address health programs, & provide disaster relief. RT to tell GOP #DoYourJob."
Meanwhile, a shutdown looms.