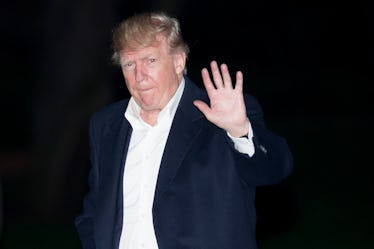 It Looks Like Trump Tweeted Condolences For The Wrong Mass Shooting, So That's Dark
Pool/Getty Images News/Getty Images
Just when you thought things couldn't get worse, President Donald Trump gave his condolences to the wrong mass shooting. On the evening of Nov. 14, Trump tweeted about the Sutherland Springs shooting instead of the Rancho Tehama shooting, which happened that day. Early Tuesday morning, a shooter killed four people and wounded at least two children outside an elementary school in Rancho Tehama Reserve in Northern California. Trump seemed to have mixed up the two recent mass shootings, with both tweets appearing to be "copy and pasted." Maybe his two-week long Asia trip has him all turned around, but either way, it did not go unnoticed by the public.
The tweet that is under fire reads, "May God be with the people of Sutherland Springs, Texas. The FBI & Law Enforcement has arrived," which Trump tweeted on Nov. 14. However, on Nov. 5, Trump wrote an almost identical tweet saying, "May God be with the people of Sutherland Springs, Texas. The FBI & law enforcement are on the scene. I am monitoring the situation from Japan."
The shooting, which seems to be a bit overshadowed by Trump's tweet, is still under investigation for motive. However, the shooter was reportedly killed by authorities after leaving the school and going on a random shooting spree around Rancho Tehama Reserve. The Assistant Sheriff Phil Johnston of Rancho Tehema Reserve said, according to KCRA, "This is a very tragic event for all of us. There are children involved, it is an emotional thing."
It didn't take long for Twitter to jump on Trump's Tuesday night mistake and accuse him of using a "shooting tweet template" that is void of empathy and just simply a default condolence.
Some people thought it was a joke... until they realized it wasn't.
One leader that didn't miss a beat was Jerry Brown, Governor of California.
Brown issued a statement saying, "Anne and I are saddened to hear about today's violence in Tehama County, which shockingly involved schoolchildren. We offer our condolences to the families who lost loved ones and unite with all Californians in grief."
One of the most important parts of being president is to address and console a grieving nation in times of distress, and Trump's little misstep is not helping his already-criticized lack of empathy in response to events such as Hurricane Harvey. Trump was criticized for focusing on crowd size and how catastrophic the storm before consoling and comforting people.
In this instance, it was not a problem of empathy, but an actual mix-up of facts. While this is comical to some, other people on Twitter are using this as an opportunity to bring up the conversation of the deeper root of mass shootings, something that some users feel Trump has not adequately addressed.
People are also raising concerns that shootings are clearly too frequent and too regular, if even the president is mixing them up.
This also has people raising conversations about gun control and whether or Trump is fit to lead, if he cannot keep his own country's tragedies in order.
Others are less concerned with the seriousness of the situation and are shocked that Trump still has the ability to shock people with ridiculous stories like this one.
Some people have jumped to the president's defense, blaming his staff for the incorrect tweet.
Regardless of if Trump or his staffers are directly to blame for the tweet, it still looks equally as bad for the administration and their awareness of domestic issues happening on the home front. While the tweet has since been deleted, you can always count on Twitter to (literally) have its finger on the pulse for Trump's every move and misstep.