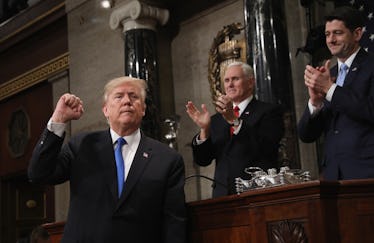 Trump Lied About His State Of The Union Audience, Because Of Course He Did
Win McNamee/Getty Images News/Getty Images
Not for the first time, the subject of President Donald Trump's audiences, and an objectively false claim, is news again. After Trump's inauguration last January, former White House Press Secretary Sean Spicer erroneously declared "this was the largest audience to ever witness an inauguration, period." This time around, it was the president himself who made a false claim, as Trump lied about his State of the Union audience having the highest viewership in history.
In a tweet posted on Thursday morning, Feb. 1, the president said the following,
Thank you for all of the nice compliments and reviews on the State of the Union speech. 45.6 million people watched, the highest number in history. @FoxNews beat every other Network, for the first time ever, with 11.7 million people tuning in. Delivered from the heart!
A viewership of 45.6 million is far from the highest number in history for a State of the Union broadcast. Former Presidents Barack Obama, George W. Bush, and Bill Clinton all delivered State of the Union speeches that drew larger television audiences than 45.6 million.
Obama's State of the Union address in 2010, his first as president, drew over 48 million viewers. George W. Bush's State of the Union address in 2003 — delivered at a time when U.S. intervention in Iraq prompted interest in foreign affairs — drew over 62 million viewers. Former President Clinton's 1998 State of the Union speech drew over 53 million viewers, all according to Nielsen, the company that track viewership for American television broadcasts.
Trump's citation of Fox News' viewership for the State of the Union address was indeed accurate, however. The 11.7 million viewers who followed the speech on Fox News gave the right-leaning cable news network the highest amount of viewers for all channels overall, including non-cable channels.
At 45.6 million television viewers, President Trump's speech on Tuesday, Jan. 30, drew the lowest audience for a president's first State of the Union address when compared to his three predecessors' inaugural State of the Union speeches (Clinton, George W. Bush, and Obama).
The tally for total viewership on all platforms, including devices that streamed the speech, is much less of a known quantity. There's a simple reason it's unclear what the total viewership for President Trump's State of the Union would be if streaming audiences were factored in, too, and it's because Nielsen has been having trouble with factoring those numbers in. In a Wall Street Journal report published in December, a Nielsen representative told the paper that lag time that comes when audiences stream content on platforms like an Apple TV makes it difficult to count "live viewers."
"The industry has seen a growing increase in consumer viewing of Live content streamed to their TV sets," the representative is quoted as saying. "However, we found that when Live content is streamed to the TV set, delivery takes longer than that of traditional cable and over-the-air delivery."
In the same report, multiple television network executives shared their complaints about how Nielsen's troubles counting streaming viewers hurts ratings.
"We're not getting full credit for our live viewing and it's impacting us every weekend. It's imperative to all networks that Nielsen move quickly on rectifying this issue," Bill Wanger, executive vice president of programming, live operations and research for Fox Sports, told The Journal.
Still, regardless of how many people tuned in to watch President Trump's first State of the Union address, even when factoring viewers who streamed the speech, the president still cited a number (45.6 million viewers) as the "highest" ever for such a speech.
Needless to say, that claim is false.