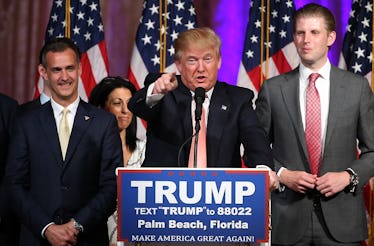 How Americans Felt In The Year Since The Election, According To Trump Reaction GIFs
Win McNamee/Getty Images News/Getty Images
It turns out GIFs aren't just for the Carlton dance after all. An analysis of the most popular Trump GIFs since the election shows America's feelings — and how those feelings have changed over the last year. On average, according Tenor, a leading GIF search engine and sharing platform, it appears that Americans have been more sad and less shocked since the 2016 election based on what GIFs they've been searching for.
I spoke with Jennifer Kutz, head of insights for Tenor. (It's behind the keyboards you use when you're sending GIFs through social media, iMessage, Messenger, etc., so Tenor is a pretty big deal.) Kutz filled me in on what GIFs can tell us about Americans' emotions since the 2016 election.
With some 300 million users monthly, Tenor had a lot of data to sort through. The report examined trending search terms at various points from October 2016 to October 2017. Specifically, it looked at trends around Trump GIFs and events relating to his administration.
Per Tenor, the top five Trump GIFs over the year, in order, were: Trump in a leotard, Trump's "really, oh, really, well" face, Hotline Bling Trumpwall, Bye Bye, and OMG Trump.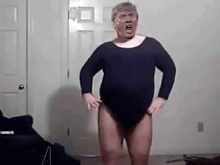 The data doesn't show how many times people searched for a particular emotion overall, but rather the changes over the year in how popular each emotion was.
On Nov. 8, 2016 — Election Day — searches for "scared" and "nervous" GIFs skyrocketed, Kutz says. And that spike wasn't just an all-year high: "We did look at that historically, and that was the highest levels [of scared and nervous searches] Tenor has ever seen" in the company's three-and-a-half year history.
People across the United States used Trump GIFs and memes, Kutz says, but their purpose varied by state. "When we went down and looked geographically," she says, "we're seeing them shared in high level everywhere, red and blue states alike. One hypothesis is that fans of Trump may not be taking it quite as seriously as we think."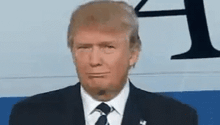 The GIFs used indicated a variety of political preferences. "We saw search terms that could relate to both sides, if you will," she says. For example, after former FBI Director James Comey was fired, Tenor noticed, "Bye" and "Deal with it" GIFs were used in addition to more positive ones.
Though she says the data show that both positive and negative GIFs were popular, the top five tended to be objectively mocking Trump. "We're seeing trending towards lack of support for Trump" overall, Kutz says, though she says this wasn't particularly surprising given that Trump didn't win the popular vote.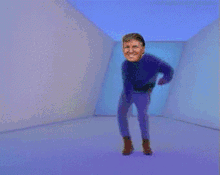 Most notable was that, from last October until now, Americans have been steadily searching for more "sad/crying" GIFs, while the rate of "shocked" searches dropped off. It's not just a liberal or generational bubble, either. A poll by the American Psychological Association showed that 59 percent of Americans said the election was the lowest point in the country's history that they could remember. (So that's great news.)
Tenor had some big takeaways from looking at the GIFs people used most. While lots of users share GIFs to express feelings around personal events, they also are telling of bigger-picture feelings. "People share GIFs based on collective emotions and what's happening in the nation," Kutz says. "If I'm really upset about something, are people sharing GIFs in those circumstances? And the answer is pretty clearly yes."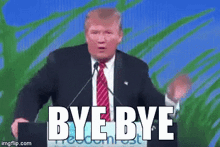 Anyone who's used GIFs before knows that users can choose to search for the clips based on what they contain (such as "Trump") or by the general emotion the GIF conveys (such as "scared"). Kutz says that about 90 percent of the time, users are searching for a specific emotion. But it's not always for broad stroke emotions like "happy" or "sad," she says. "It can be, 'I want to express feeling powerful, so I'm gonna search for Superman.'"
GIFs, Kutz says, are an integral and necessary addition to the digital conversation landscape. Whereas in-person communication allows for body language, facial expression, and tone of voice, messaging platforms and texting remove those layers of expression. "You need to be able to add that color or that texture," Kutz says. "The first version of that to catch on was emoji. But there are some limitations there … but GIFs really provide a lot more color and animation and allows you to tap into cultural themes." In particular, GIFs allow users to personalize their expression and relate in more specific ways.
Fun fact: GIFs (short for graphics interchange format) have been around for about 30 years. That's almost as old as the first Macintosh computers. (What?!)
When I asked her to weigh in on the "gif"/"jif" pronunciation debate, by the way, Kutz said she uses the hard g, though she hears it said both ways in the Tenor community. So we're no closer to any definite answers there, sorry. But we do have a pretty good idea what people were feeling since the election.