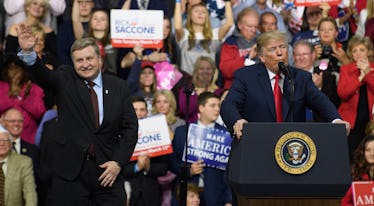 Trump's Pushing For A Candidate One Day Before The Special Election & Twitter's All Over It
Jeff Swensen/Getty Images News/Getty Images
President Donald Trump's contradictions became the topic of conversation again on Monday, March 12, this time in regards to a high-stakes election. Trump's endorsement of Rick Saccone in Pennsylvania's special election got Twitter talking after news that he reportedly had some unfavorable views of the candidate came just one day before voters hit the polls. The election for the Congressional House seat is on Tuesday, March 13.
"The Pittsburgh Post Gazette just endorsed Rick Saccone for Congress," Trump tweeted Monday. "He will be much better for steel and business. Very strong on experience and what our Country needs. Lamb will always vote for Pelosi and Dems....Will raise taxes, weak on Crime and Border."
Saccone, currently a state legislator, is going up against Democratic candidate Conor Lamb, a former prosecutor. The two are competing for the U.S. House seat vacated by Republican Representative Tim Murphy, who resigned in October 2017 amid reports that he'd allegedly suggested his former partner get an abortion. (When contacted about the report by ABC News, Murphy's office declined to comment on the allegation.) In September 2017, Murphy admitted to the affair, according to The Washington Post. Weeks later, a statement from Murphy to Speaker Paul Ryan on Oct. 21, 2017, read, according to The Washington Post: "Upon further discussion with my family, I have made the decision to resign my position. I am grateful for the opportunity to have served the people of southwestern Pennsylvania and to have worked with the talented and dedicated men and women of the United States Congress."
Though it's not the first time Trump has expressed his support for the candidate, it's certainly late in the game for him to be making an eleventh-hour call for voters to go for Saccone. And news reports are casting doubt on how Trump feels about the candidate he's backed.
Trump reiterated his hope for a Republican to take the seat again on Sunday. "Hopefully, Rick Saccone will be another big win on Tuesday," Trump tweeted, mentioning other GOP wins.
On Saturday, March 10, Trump attended a rally for Saccone in Pennsylvania, telling the crowd, "We need Republicans in office," according to Politico. "This guy should win easily, and he's going to win easy," Trump also said at the rally, per The Hill. "You got to know him. He's an extraordinary person. Go out and vote on Tuesday for Rick Saccone." Per an ABC report on the rally, Trump spent most of his hour-plus speech talking about himself and his own 2020 run, rather than the candidate at hand.
And aside from those generic remarks of wanting to elect another GOP party member, Trump wasn't exactly effusive about Saccone. According to a report by Axios from Sunday, Trump's feelings on him go further than that: The president has reportedly been trash-talking Saccone behind closed doors, calling him a "weak" candidate, per four sources who'd talked to the president about him. (Elite Daily reached out to the White House for confirmation, but did not hear back at the time of publication.) This adds another layer to the story that the Republican party is generally underwhelmed by their candidate, as Politico reported last week.
The president's lukewarm feeling towards Saccone was corroborated by a report by ABC, in which an aide confirmed that Trump viewed him as a "weak candidate" (though it's worth noting that Trump himself has not confirmed this) but said that Trump felt obligated to campaign for his fellow Republican.
Needless to say, the optics weren't exactly helping Trump's, or the Republican's, cause. Twitter users were quick to jump on the president's incongruent behavior towards the candidate.
David Axelrod, formerly a Senior Advisor to President Barack Obama, wrote, "If @GOP candidate Saccone loses in PA on Tuesday, rest assured @POTUS will trash him PUBLICLY, as he already is doing privately."
Attorney and University of New Hampshire professor Seth Abramson trolled Trump in a tweet, writing, "Wouldn't it be a shame if, in advance of tomorrow's special election in Pennsylvania, news that the president thinks the Republican candidate is *terrible* went viral and was seen by hundreds of thousands of Pennsylvania voters?"
The race seems to be a surprisingly close one, but some predictions show Lamb in the lead. A Monmouth University poll, The Hill reported Monday, projects Lamb taking the election with 51 percent of the vote, compared to 45 percent for Saccone. A loss on Tuesday in Pennsylvania would be particularly embarrassing for Republicans, given that Trump won the district by 20 points in 2016.
Lamb has significantly out-raised his competitor, to the degree that a Republican political operative told NPR, "Rick Saccone has had difficulty raising money, to be candid." Data from the Center for Responsive Politics (CPR) show Lamb with a fundraising total of $3.8 million as of Feb. 21, compared to $916k for Saccone.
According to NPR, the GOP has flushed the Pennsylvania race with cash to make up for the lack of fundraising dollars, spending more than double what the Democratic candidate has campaigning. CPR data, cited by NPR, indicates that the majority of the $10 million the GOP has spent on the race was from outside groups attacking Lamb.
The Republicans are hoping to avoid a repeat of what's happened in recent elections where solid-red states have voted blue. In the November 2017 elections, Democrats were able to flip a handful of seats that had gone to Trump just the year before. And in an unprecedented move, the Alabama Senatorial special election in December 2017 went for Democrat Doug Jones of the GOP candidate Roy Moore.
Last week, White House counselor Kellyanne Conway was also out advocating for Saccone, and in one last-minute push for the candidate, Donald Trump Jr. made a public appearance with Saccone on Monday — apparently, in a candy shop, wearing a hair net.