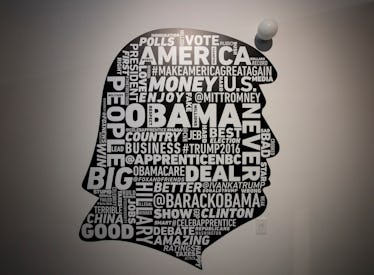 Trump Is Acting Like A Dictator By Blocking People On Twitter, Law Professors Say
Drew Angerer/Getty Images News/Getty Images
Though an accurate description, calling the White House a "daycare" center isn't quite cutting it. For a group of legal experts, President Donald Trump's social media usage is a lot more nefarious than playground taunts. Law professors on Monday, Nov. 6 compared Trump blocking people on Twitter to an "authoritarian regime."
Per The Hill, a group of law professors in the Georgetown Law's Institute for Constitutional Advocacy and Protection (ICAP) filed an amicus brief Monday arguing that Trump's Twitter use violates the First Amendment — and amount to dictatorial practice. The brief was filed on behalf of well-known scholars Lawrence H. Tribe, Erwin Chemerinksy, and Lyrissa Lidsky.
Elite Daily reached out to the White House but did not receive a response at time of publication.
The Constitution protects individuals from being discriminated against for their views, especially where criticizing the government is concerned. (That's sort of the whole point of the First Amendment — remember high school government class? Incidentally, protecting and defending this has become the rallying cry for campus free-speechers in arguing for allowing controversial speakers to facilitate a free exchange of ideas.) And Twitter is basically a gigantic virtual public square, so removing someone from it has serious implications.
And Trump's twitter account, currently followed by some 42 million people, is its own microcosm of public discourse. The White House has made clear they regard his tweets as official statements. ICAP writes that the president's feed,
...qualifies as a public forum ... in which the government is forbidden to engage in viewpoint discrimination.
Blocking users on Twitter, ICAP writes, is like removing a citizen from a town hall simply because they're speaking out against authority. Because blocked users can't view, comment, or reply to the president's tweets, their ability to air grievances is diminished, and their rights are lesser than those of users who haven't been blocked. Additionally, other users cannot see those would-be criticisms because blocked users aren't allowed to post to his feed. All this amounts to a feed that looks suspiciously favorable toward the president — which is a big problem if you're the leader of the country.
The amicus brief states that not only is it unconstitutional for the president and his aides to silence and purge critical voices from his feed, it also serves as a chilling effect for those who would speak out against him but are afraid to do so because of the consequences.
They write that Trump's repeated blocking of his critics on Twitter creates a false sense that the public adores its leader. In addition,
Over time, defendants' innovative approach to censoring critics may lead officials at all levels of government to seek the type of curated adoration in which healthy democratic dialogue dwindles. Such practices are a familiar playbook for authoritarian regimes.
ICAP's 26-page amicus brief supports a lawsuit filed by the Columbia Knight First Amendment Institute in July representing seven people who were blocked by the president on Twitter. The Knight Institute says it sent the president a letter in June 2017 warning that a lawsuit would follow if he didn't unblock the users, who had been blocked for expressing their views on the platform.
On Oct. 13, lawyers for the president argued back in court that the president's Twitter account represented only his speech, and did not amount to a public forum — and therefore couldn't be held to the same standard. The Knight Institute on Monday filed in opposition of this.
It's unclear where the lawsuit is headed from here, but the legal cheerleading of scholars is undoubtedly welcome support. I, for one, am curious what those blocked users would say to the president on Twitter if they could.