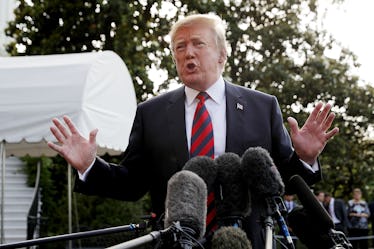 Trump Blamed Democrats For Families Being Separated At The Border & I'm Not Kidding
Chip Somodevilla/Getty Images News/Getty Images
The president, surrounded by a gaggle of reporters outside the White House on Friday, spoke about immigration, North Korea, and the IG report released on Thursday, June 14. The comments are getting serious attention in particular because of the Trump administration's zero-tolerance policy on border crossings, which have resulted in children being taken from their parents. Speaking at the White House on June 15, Donald Trump blamed Democrats for families getting separated at the border.
When a reporter chasing behind the president asked, "Mr. President, is it humane to separate children from their families?" he responded, "That's the Democrats doing that." Per CNN, Trump also said:
The Democrats forced that law upon our nation. I hate it. I hate to see separation of parents and children.
The Democrats can come to us as they actually are in all fairness. We are talking to them, and they can change the whole border security.
Trump doubled down with a tweet on Friday again finger-pointing on immigration policy. "The Democrats are forcing the breakup of families at the Border with their horrible and cruel legislative agenda," wrote Trump in his Friday tweet. "Any Immigration Bill MUST HAVE full funding for the Wall, end Catch & Release, Visa Lottery and Chain, and go to Merit Based Immigration. Go for it! WIN!"
The practice of separating parents and children, as CNN and the Post note, is not the result of any law passed under a Democratic administration, but rather the result of the Trump administration's crackdown on border security. In fact, two previous laws provided for children to be released to, rather than detained and separated from, their parents.
But Trump's administration has deflected any blame for the decision. On Thursday, June 14, Attorney General Jeff Sessions defended the practice, making a Bible reference in the process. Sessions had initially announced his zero-tolerance policy on border crossings in April. In May, he clarified that policy, saying that parents and children were not exempt from immigration laws, and that parents crossing the border illegally could expect to have their children taken away as they were detained for doing so.
"If you are smuggling a child, then we will prosecute you and that child will be separated from you as required by law," Sessions said in a speech before law enforcement officials on May 7. "If you don't like that, then don't smuggle children over our border."
On Thursday, as The Washington Post notes, White House Press Secretary Sarah Huckabee Sanders told reporters during a brief that separating families was the law, thanks to Democrats. Apparently, when pressed by reporters who called out that no such law exists, she insisted: "The laws are the ones that have been on the books for over a decade, and the president is enforcing them. [...] However, until Democrats are willing to actually fix this problem, it's going to continue."
She'd made the same claim back in May, and as the Post had pointed out in fact-checks, there is no law that demands that families be separated at the border.
The president also signaled Friday that he wouldn't approve of the House Republican's plan to tackle immigration. Speaking on Fox & Friends on Friday, Trump cited two bills by the GOP set to go before the House early next week for voting. One is a hard-line bill introduced by Rep. Bob Goodlatte, and the other, a more moderate version of Goodlatte's, the product of negotiations and compromises within the party. Among its provisions, the compromise bill would provide $25 million for border security, implement a visa program for Dreamers, and end the practice of separating families.
While Trump told Fox News he was "looking at both of them," he said, "I certainly wouldn't sign the more moderate one." The comments came as a shock to leadership on Capitol Hill, where Republicans have been tailoring their legislation to ensure it would win Trump's approval. According to the Hill, Speaker of the House Paul Ryan said the compromise bill had already received the president's thumbs up.
But hopes for a successful vote next week have been all but dashed after Trump's comments Friday. "I need a bill that gives this country tremendous border security," he added. "I have to have that. We have to get rid of catch-and-release."