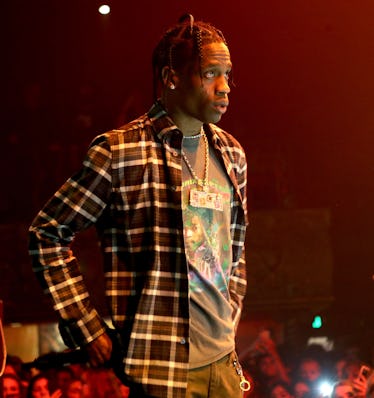 Travis Scott Posted A Snap Of Stormi After Kylie Deleted All Her Pics & I'm Living For It
Randy Shropshire/Getty Images Entertainment/Getty Images
Travis Scott and Kylie Jenner are completely united on the decision to stop sharing pics of their daughter's face on social media. Nothing proves that more than Travis Scott's photo of Stormi, which was posted on Wednesday, June 13. The photo shows only her itty bitty feet, but it's enough to drive the rapper's fans wild with baby fever!
Scott shared the photo via his Instagram Story just days after Jenner decided Stormi's little face should stay off social media for the foreseeable future. In the photo, you can see Scott cuddling little Stormi on his lap. You can also see that the father-daughter pair are wearing matching sneakers. So cute!
The baby's legs and feet are completely visible, as are Scott's, but everything else is concealed. That's a pretty smart way to get around Jenner's new No Stormi Photos rule.
Jenner revealed on Monday, June 11, that she'd no longer be sharing pics of her baby.
Then, in a Tuesday, June 12, report from People magazine, a source close to Scott and Jenner revealed the reported reason behind the sudden decision to stop sharing photos of baby Stormi. Sadly, it's not a happy reason.
Apparently, Jenner is feeling uber protective of Stormi right now, as she did when she was pregnant:
Kylie felt so protective of her baby when she was pregnant. This is why she didn't share any bump pictures while she was pregnant. After Stormi was born, Kylie was the proudest mom.
Since giving birth, Jenner has found that some people on social media are making negative comments about her baby. Like that rumor that her bodyguard was really Stormi's father. Here's what People's insider source had to say about Stormi and social media:
She couldn't wait to show off Stormi to her fans. She posted pictures, because she was so excited to be a mom. Unfortunately, social media is a crazy place … People have been making nasty comments.
All of that is understandably upsetting, especially if you're a proud mama bear like Jenner is. And People's source said as much:
Kylie is shocked and doesn't want her daughter's pictures to be a part of something negative. She might reconsider in the future, but for now, she won't post any more photos of Stormi's face.
Wow, it sounds like Jenner is really making the right choice in keeping Stormi from any harmful comments.
But even with this ban on Stormi pics, it seems like both Scott and Jenner are still keen on sharing bits of their lives with fans.
Jenner recently posted this pic of herself and Stormi (with Stormi's face cut out, of course):
She also posted this one not too long ago. Stormi's face, once again, isn't visible at all:
And now there's Scott's pic, which is equally as mysterious as it is cute.
This isn't the first time the couple has gone silent regarding their baby. While Jenner was pregnant, she basically stopped sharing updates about her life via social media. Instead, she relied heavily on throwback pics. When Stormi was finally born in February 2018, Jenner took to Instagram to explain her absence:
I'm sorry for keeping you in the dark through all the assumptions. I understand you're used to me bringing you along on all my journeys. My pregnancy was one I chose not to do in front of the world … I knew my baby would feel every stress and every emotion so I chose to do it this way for my little life and our happiness.
Perhaps, this is just another one of those occasions where Scott and Jenner need some time alone with their baby. There's no shame in making family time private.