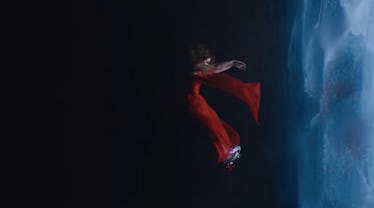 This Commercial With Figure Skater Ashley Wagner Is So Mystically Dreamy
YouTube
Much like the Super Bowl, there's more to the Olympics than merely breathtaking athletics and soulful competition. There are also really epic commercials that move you to laugh or, more typically for the Olympics, sporadically burst into tears because there's just so many human emotions as all these athletes push themselves to the limits and oh my god I love the Olympics so much. One such ad that come out for the 2018 PyeongChang Olympics is Toyota's Ashley Wagner commercial, which speaks to the passionate struggle the Olympic figure skater has faced over the years, and this year in particular.
Wagner had quite the controversial story four years ago during the Sochi Winter Olympics. The month before those games started, Wagner finished fourth at the U.S. championships, which is when U.S. Figure Skating chooses who makes the Olympic team. She was devastated after falling twice in her performance. Despite those results, however, U.S. Figure Skating chose her for the Olympic team, bumping out Mirai Nagasu, who had placed third at the national championships.
It was a controversial decision for U.S. Figure Skating, and Wagner was under pressure to perform at the Sochi Olympics. Wagner helped the U.S. team take home a bronze medal, and she ultimately ended in seventh place in the individual competition. In 2014, she was 22 — considered "old" for individual figure skaters — but she insisted she was coming back to compete in PyeongChang.
Toyota's "Thin Ice" commercial, which you can see below, speaks to Wagner's journey over the past four years.
Ultimately, Wagner did not make the official team for figure skating at this year's Olympics. Again, a month before the games, Wagner placed fourth at the U.S. championships. Again, U.S. Figure Skating had to decide whether to bump one of the first three finishers at the national competition for Wagner. This time around, they did not give her that privilege. Instead, Wagner ended up as the alternate for PyeongChang, so she's still in South Korea for the games, just not competing.
"Every day is a chance to chase my dream, but life on the ice is a dance, a balancing act on the edge of my blade," Wagner says in a voiceover for the Toyota commercial. "One wrong move, and it can all slip away."
The ad shows her skating around on a mysterious-looking frozen lake. As she talks about "one wrong move," she makes a jump and falls, and another version of herself suddenly appears to fall beneath the ice. But sinking Ashley doesn't let herself sink further — instead, she heads upwards, back to the Ashley on the ice, sparking her to stand up and skate again.
"I thought I was done. But strength only comes from my struggle. Sometimes, the harder we fall, the stronger we rise," Wagner says in the voiceover, before saying Toyota's motto for their Olympics campaign. "When we're free to move, anything's possible."
While some people were impressed by the visuals of the commercial, many figure skating fans were frustrated with the choice to highlight Wagner, given her controversial place in the skating world. The responses really speak to how Wagner is viewed within figure skating.
The "Thin Ice" commercial is one of seven that Toyota released for their Olympics "Start Your Impossible" campaign. Most of the others do not feature specific athletes, making them less implicitly controversial. One in particular, called "Runner," makes me cry literally every time. Check it out:
Wagner has been fighting for a top spot within women's figure skating for years, and while this may look like the end of the Olympic line for the 26-year-old, we know she's got the spirit to push on. No matter how you feel about her (or U.S. Figure Skating's decisions about her), that determination is something to respect.