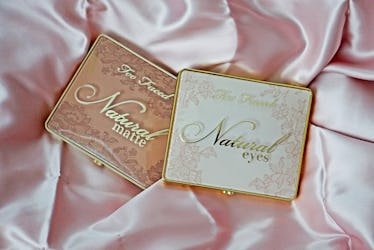 Too-Faced's Best-Selling Eyeshadow Palette Just Got A Major Facelift & You Will Swoon
Too Faced
If you're a fan of beauty brand Too Faced, you're familiar with their natural collection (if you haven't been introduced to the entire collection, you at least know the Too Faced Natural Eyes palette — it's their best seller after all). The collection is a range of neutral shades that give your eyes, lips, and cheeks that extra something. Think: A contour that makes you look like you were born with sky-high cheekbones and shadows that give your eyes a twinkle that only Kira Kira can fake.
But if you've been a fan since they first launched in 2009, you might be craving something new, if not for the shades, then at least for the packaging. Say no more, because the entire naturals line is getting a facelift from packaging to formulas, and I'm predicting these will be even better best sellers than the originals.
The original Natural Eyes eyes palettes is one of my favorites and while I loved it as is, the new and improved version is not only prettier, the formulas have been updated. The palette has some weight to it, which makes it feel so expensive. The shiny top has a 3D-looking lace print, layered with the logo in a metallic gold print.
If my vanity was a closet, the new Natural Eyes palette ($38; Too Faced) would be the sexy lingerie hanging inside. The shades are almost the same, except one. "Nudie" has been swapped for a slightly warmer nude called "Strip Poker," and all the shades are now coconut-butter infused, which not only makes them feel softer and creamier, they smell like a perfect day of sipping piña coladas on the beach.
But if you're more of a Natural-Matte-eyeshadow-palette kind of girl, your favorite product has a brand new look (and smell) too! Aside from the lingerie-looking packaging, seven of the nine shades have been updated, all for the better, I promise. The new shades include "Less is More" (the perfect light brown), "Sexpert" (a milk chocolate brown), "Nude Goals" (an almost-white soft pink), "Cleavage" (a light taupe brown), "Risky Biz" (the darkest chocolate shade of brown), "Au Natural" (a warm, medium nude), and "Hookup" (a warm brown with an orange hint to it). And now with the coconut-butter infused formula, the Natural Matte ($38; Too Faced) shades have a creamy feel to it, rather than a dry, chalky finish.
If you had ever wished the natural eyeshadow palettes could be interpreted as face colors, Too Faced thought of everything. Perfect for finishing off your natural-looking makeup look, the brand new Natural Face palette ($44; Too Faced) complements the OG nude shadow collections. The six-shade blush, bronzer and highlighting palette is just what you need to give your face a some color (whether you prefer a subtle wash or a buildable glow). Just like its eyeshadow counterparts, the powders are embossed with a pretty lace print, perfect for those Instagrams. And the best part is the buttery formulas feel moisturizing on the skin and never look dry or flakey (no matter how cold it gets out). With shade names like "Pink Sand," "Sunny Honey," and "Tropic Like It's Hot," you'll be thinking warm thoughts all year long.
But no makeup look is complete without a lipstick to tie it all together. A brand-new addition to the range of neutral shades, the Natural Nudes ($22; Too Faced) coconut-butter lipsticks are the perfect shades of nude lipstick you've been waiting for. If you ever felt like some nudes were too light, too dark, not pink enough, too pink, Too Faced is releasing ten nude shades with every undertone covered. Also packed with coconut butter, these super pigmented lipsticks won't dry out your lips.
Le sigh — how beautiful are these? Head over to Too Faced's website now to shop your faves, because just like the OGs, I'm sure these will go quick.