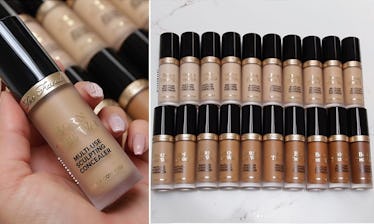 Too Faced Is Dropping A Gigantic Version Of Born This Way Concealer, For Only $1 More
Too Faced
I don't have a ton of skin concerns, but I do have freckles all along my cheeks that I try to cover with makeup. Though I constantly have friends telling me they love my freckles and I should stop hiding them, it's just something that bugs me from time to time — literally, if it wasn't for my freckles, I'd probably skip foundation altogether. But even when I'm trying to hide them, there are only a few foundations that completely camouflage my spots. Luckily for me, Too Faced's Multi-Use Sculpting Concealer comes in a supersized bottle, because sometimes spot treating isn't always enough.
The new product is a spinoff of the Born This Way Foundation ($39; Sephora), which I'm obsessed with — I've gone through two bottles already, and am halfway though the third. It's definitely one of my top five. The popular Too Faced foundation makes my skin look amazing, but never cakey. Plus it's packed with hyaluronic acid and coconut water, so it leaves a dewy glow on my skin. It's so good, Too Faced created the Born This Way Naturally Radiant Concealer ($28; Sephora) to spot treat stubborn breakouts and dark circles after an especially long night out.
But as every beauty junkie knows, there's much more to a makeup look than just foundation and concealer (like, so much more!).
Enter Too Faced's Born This Way Multi Use Sculpting Concealer Super Coverage, a long-wearing, full-coverage product that falls somwhere on the spectrum between concealer and foundation. Besides being an extra-pigmented cover-up for dark circles, blemishes, and pigmentation, it's also a liquid contour and highlighting product. Just like it's previous Born This Way counterparts, its super moisturizing and creamy texture won't get dry or settle into lines. And get this: The formula is also photo-friendly, so you won't have to worry about white-faced flashbacks on a night out. And speaking of a night out, you can stay out extra late, because this product promises 12 hours of wear.
The Born This Way Multi Use Sculpting Concealer Super Coverage will be available in 20 shades (four more than the Born This Way Concealer), which means you'll be able to create the natural-looking contour with this product alone. And to make things even easier, the buildable, oil-free sculpting concealer can be applied straight from it's precision doe-foot wand applicator. In case you refuse to slather it on your entire face, in fear that you'll run out too quickly (I'm currently looking at my freckles in the mirror), know this: There's more than twice as much product in the new sculpting product than the OG Born This Way concealer. It actually looks more like a bottle of foundation than a tube of concealer.
As if all of that wasn't enough to get you excited, here's my favorite part. The Born This Way Multi Use Sculpting Concealer Super Coverage will cost $29. Before you go writing it off as being too expensive, remember this: It's only one dollar more than the original concealer (with less than half the product!).
Judging from the current wildly popular range of Born This Way products (there are currently 11 shades of the foundation sold out on Sephora's website), this new addition is about to be huge. The Born This Way Multi Use Sculpting Concealer Super Coverage will be available on June 26 on Too Faced's website. No word on when it will be available at Sephora or Ulta, but you can bet I will be waiting at their doors first thing waiting to try the product for myself. Freckles, get ready to go into hiding.