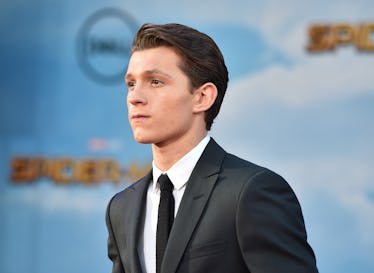 Tom Holland Took A Stray Dog To The Vet & My Heart Is Literally Melting
Alberto E. Rodriguez/Getty Images Entertainment/Getty Images
Tom Holland is the cutest actor in Hollywood right now. And by cutest, I mean all around adorable with a great personality and a genuinely good heart. He proves it every chance he gets. Whether he's gushing over rumored girlfriend, Zendaya, or raising funds for charity, Holland just seems like a good guy. So, what's he done to earn this kind of praise from a cynic like me? Only the sweetest thing ever: Tom Holland took a stray dog to the vet to make sure the little guy was in good health. How can you not love him for that?
So, here's how the whole thing went down. Basically, Holland posted on his Instagram story that he found a stray dog. From the looks of it, the dog is a few years old and possibly a chocolate lab. Whatever breed the dog is, he is a cutie, for sure!
Anyway, Holland's Instagram story was short and sweet and detailed how he found the dog:
A bit of an odd message — I was walking around Kingston and we found this dog that seems to have been stray for the last few days. If it is your dog please let us know. We're going to take him to the vet to make sure he's all okay.
Is that not the most heartwarming thing ever? Holland's fans definitely think so.
Upon seeing Holland's Instagram story, a fan captured his video and reposted it on Twitter, which helped spread the message far and wide:
And this sparked a huge response from Twitter stans. Some fans, who were already head-over-heels for Holland, are now just tripping over themselves because the actor is just so pure and lovely.
Yes, perfect. Anyone who's showing up for helpless animals and doing all they can for them gets a thumbs up from me and pretty much everyone else.
On top of all this, Holland also posted a little sneak peak into the dog's visit to the vet. In the video, Holland has the cute pup on a leash and smiles for the camera as he waits for the vet. The two seem like great friends already!
The Instagram story was also captured by a fan and reposted to Twitter:
He's a man of his word, that Tom Holland, which makes complete sense because he plays the one and only Spider-Man. Taking on that role has to teach you a little something about doing good deeds, right? And Holland is certainly doing them! He's incredible for taking time out of his busy schedule to do this super nice thing for a stray dog.
And his good deed paid off! Luckily for the dog (and his owner), the little guy had a microchip and the vets were able to identify him. Apparently, his name is Bruno! So cute! Holland posted yet another video to his story and explained the outcome of the stray dog situation:
Update on Bruno. We took him to the vet and he's got a microchip … I guess they have the owners contact info so they're going to find out where he lives and hopefully bring him home!
So awesome that Bruno is healthy and that he'll likely be reunited with his family! Love happy endings like that and it's all thanks to Holland.
This is also a really great reminder that micro-chipping your dog can literally save them from harm's way. Without that microchip (or Holland's endless kindness), Bruno would probably still be roaming the streets. Thank goodness he's not.
Anyway, how can you not love Tom Holland and his sweet disposition? No wonder his fans go wild over him.