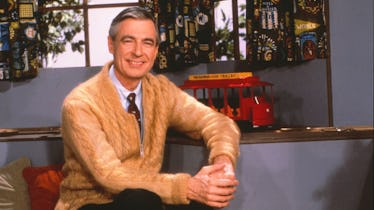 Tom Hanks Will Play Mr. Rogers In His Biopic, So There's Still Good Left In The World
PBS
Growing up in the 1980s and '90s, it was a truth universally acknowledged by our parents that the best children's television was to be found on PBS. It consisted of two shows in particular: Sesame Street and Mr. Rogers' Neighborhood. The former was the home of Muppets, and kids got songs to teach the alphabet, numbers, and simple Spanish phrases. The latter was the domain of the most genuinely moral human on TV, teaching kids how to function in the world. Now comes word that Tom Hanks will play Mr. Rogers in the upcoming biopic, which may be the nicest sentence I've gotten to write since Nov. 7, 2016.
It's hard for kids of the later generations to understand, in a world where children's television now consists of the Paw Patrol theme being endlessly lodged in in the back of your head, but Mr. Rogers' show was the most cheerful little half hour of gentle encouragement that one could imagine. Moreover, Fred Rogers was the real deal. He was the gentle-hearted man who really was sincere about teaching children not to be afraid. A Presbyterian minister ordained in 1963, he famously changed his life path after the first time he watched TV, because he saw at once how powerful a medium it was and how terribly it was being used.
In his PBS biography, Rogers is quoted as saying:
I went into television because I hated it so, and I thought there was some way of using this fabulous instrument to be of nurture to those who would watch and listen.
His show was at first local to Pittsburgh PBS (that was his neighborhood), but before long, it became a national TV phenomenon.
Fred Rogers passed away in 2003. It's taken nearly 15 years to get a biography of his remarkable story off the ground. But now, not only do we have a script in production, but a star: Tom Hanks, the man who has, in his older years, taken on the role of "America's Dad." Entitled You Are My Friend, the biopic will be directed by Marielle Heller.
According to Variety, which broke the news, Heller said:
I'm thrilled to be making 'You Are My Friend.' The script knocked me out with its message of kindness and its exploration of the human spirit. As a mother, I am so inspired by the teachings of Fred Rogers and as a human I am in awe of his life's work. I can't wait to bring his story to the public and be a part of such a thoughtful, smart group of people who are all coming together to make this film, which truly feels to me like an antidote to our very fractured culture.
This will be added to the pile of Tom Hanks' current projects. As Variety notes, the actor already has "a handful of films" that are planning to shoot during 2018, including the World War II movie he wrote himself called Greyhound.
Even if we don't get this movie until 2020, it will be worth the wait. Fred Rogers' legacy is one that he passes on to millions of children, and many adult children still remember him with great love in their hearts.
Fred Rogers may be gone, by the way, but his spirit lives on at PBS, which currently airs the Mr. Roger's Neighborhood spinoff entitled Daniel Tiger's Neighborhood, a cartoon based on the beloved clock-dwelling puppet in the Neighborhood of Make Believe. I have it on very good authority from several mothers that the life lessons that Daniel teaches, including helping kids deal productively with their feelings, are invaluable to the current kindergarten-aged set.