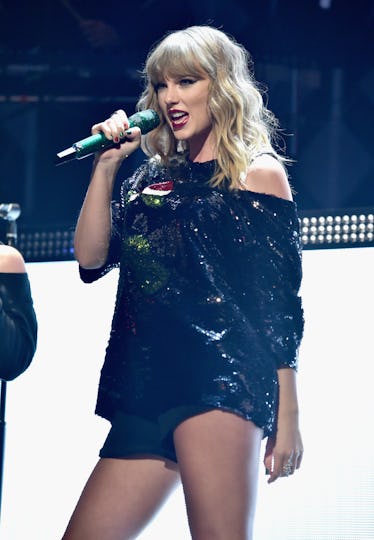 One Of Taylor Swift's Exes Turned Her Into "Quasimodo," According To Her BFF
Theo Wargo/Getty Images Entertainment/Getty Images
Everyone has that one best friend who gives the greatest advice. It might be related to sex, friendships, or just life in general — and sometimes we might not be mentally prepared for what they have to say. However, it's a bestie's duty to be totally upfront about everything and to always tell it like it is. Since even celebs need a best friend to keep them in check, Taylor Swift's BFF told her something that was probably the last thing she wanted to hear, which was that her ex turned her into "Quasimodo" while they dated. In fact, Todrick Hall's "Quasimodo" quote about Taylor Swift reveals how unhappy she was in one of her past relationships.
Todrick Hall, a rapper, singer, actor, and dancer, is reportedly Swift's best friend, muse, and voice of reason. Earlier this week, Hall was interviewed on The Kid Kraddick Morning Show, and he said that although Swift is no longer as angry as she appeared to be in her 2017 music video, "Look What You Made Me Do," she was miserable in her relationship with ex-boyfriend — and fans think he was referring to Tom Hiddleston. Hall said that even though he never actually saw them together, he could sense that Taylor was really unhappy. And while she may have not wanted to accept the harsh reality of her unhappiness, Hall made her realize that her negative feelings brought on by her ex really weren't worth her time... or her posture. Hall said,
(Now) I think she's the happiest I've ever seen her. There was a time last year, which I don't know if i'm supposed to say anything, but she was dating someone who I'd never actually met in person. But I could just tell every time I'd talk to her, that she would hunch over, and I sent her this picture where I edited her as Quasimodo, because like, 'you cannot turn into Quasimodo for this guy.' And now she's so happy, standing up completely straight and she's so tall and so confident... and I just love it.
So, it's official: We'll be sending Hall an award for being bestie of the year, for keeping Tay's best interests at heart, and for offering the glorious wisdom we have all been able to relate to at some point in our lives. Because sometimes, people just need to hear that they're being a total Quasimodo and that they need to make a change which could really improve their inner-confidence (and apparently their posture, too).
Hall went on to say that Taylor is his muse as well. When asked about his several (quite impressive) projects as of recently, Hall totally credits Taylor for inspiring his determination, constant perseverance and his work ethic. Hall said,
I'm never gonna stop, because the thing is, it's like I just watched so many people (working hard). Being that I'm so close to Taylor, and get to watch how hard she works and how passionate she is about every song that she writes, it's just so inspiring to me.
So, forget Kendall and Gigi, or Demi and Selena, because Todrick Hall and Taylor Swift are legitimately #bestfriendgoals. From constantly looking out for each other and telling one another to GTFO of crappy relationships, to inspiring each other to be the best artists they possibly be, we are now forever going naming their best-friendship "Tay-drick." And the bottom line is this: If your relationship is turning you into Quasimodo, you can do way better for yourself — so stand tall. And, side-note: we're sort of dying to see what Taylor looks like as Quasimodo. Hall, if you're reading this: Please send a copy of this hilarious photo our way; we would greatly appreciate it.
Check out the entire Gen Why series and other videos on Facebook and the Bustle app across Apple TV, Roku, and Amazon Fire TV.