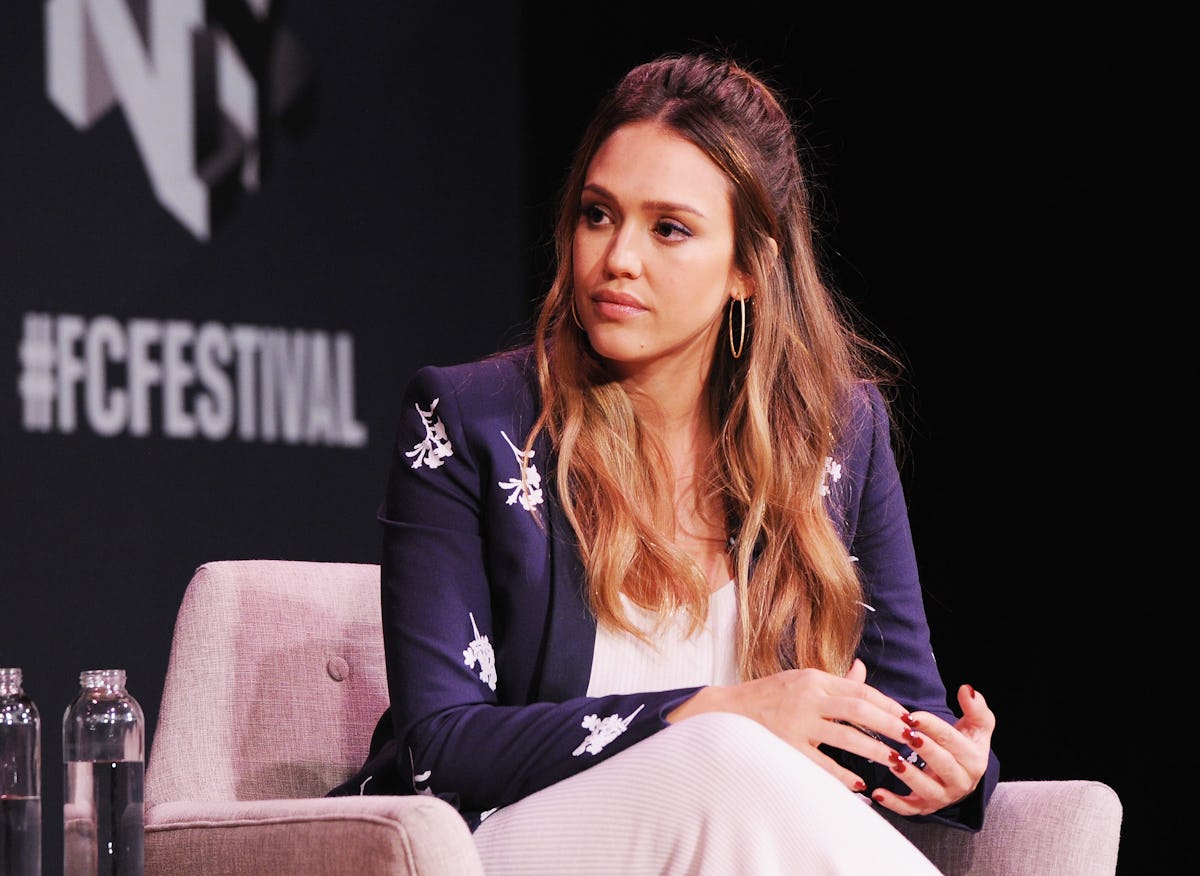 These Celebs Are Demanding Equality For #LatinaEqualPayDay
Craig Barritt/Getty Images Entertainment/Getty Images
If a specific race or minority group has to have a national day or organization set aside to recognize them, chances are they're used to being ignored. It seems no one knows this better than Latina women. You might have heard the now popular statistic that women earn 75 cents to a man's dollar on average, but according to the National Partnership for Women and Families, Latina women have it worse. Latinas make just 54 cents compared to every dollar a white man makes, and black women fall just above Latina women's earnings, at 63 cents to every dollar a white man makes. In order to raise some much needed awareness on the topic, Nov. 2 is officially Latina Equal Pay Day. November 2, 2017 represents the exact time (from January 2016) a Latina woman would have to work in order to make the same national average salary as a white man in the United States. Yep, that's 10 extra months of work.
Latinas have certainly made effective strides in recent years. This year, the first Latina CEO, Geisha Williams, made Fortune's Most Powerful Women list as head of Pacific Gas and Electric Company. In 2016, the first Latina senator, Catherine Cortez Masto (D), was elected to the U.S. Senate to represent Nevada. While this progress is amazing, if you ask me, it really isn't happening fast enough.
Thankfully, Hollywood now has more Latina influence than ever, with stars like Eva Longoria and America Ferrera lending their voices to multiple political causes. Here are a few more celebs who got vocal about #LatinaEqualPayDay, and pay attention to the starting facts and figures they drop in the process.
Cristela Alonzo: "We Deserve Better"
The actress and comedian is no stranger to sharing her personal story of growing up with a single mom and siblings in South Texas. She often talks about her mother in her comedy specials, like Netflix's Lower Classy, and describes how tight money was with her mother as the sole income provider.
In a tweet posted to her account on Nov. 2, Alonzo says. "My mom made $6K a year — raised 4 kids. Latinas make .54 per $1 a white man makes. We deserve better."
We certainly do.
Senator Cortez Masto: "It's Unacceptable"
The first Latina to win a seat in the U.S. Senate is right; it's unacceptable, and the first step to ending any issue is bringing awareness to it.
Eva Longoria: "We Are Worth The Whole Dollar"
Eva Longoria penned an essay on Fortune on Nov. 2 that dropped some startling facts, like if Latina women want to make as much as a white male in her lifetime, she will have to work until she's 90, while men can retire at 60. Longoria points out, that's literally like ripping each dollar bill to your name in half, and throwing the other half out.
Longoria also suggests ways to end the problem, like adding more Latinas to the workplace, and diversifying hires. Sounds great, but then what? Once Latinas have a seat at the table, they — like anyone, male or female — will need to be supported in order to succeed. Longoria writes, "No matter your gender or position, you can mentor a woman in your company or industry. Look at those who are still striving to achieve greatness and give them a hand."
Jessica Alba: "Soy Una Mujer Fenomenal"
In Alba's Instagram post on Nov. 2, she writes in Spanish, "Soy una mujer fenomenal," or "I am a phenomenal woman." The shirt she's repping here is from the Phenomenal Woman campaign, which aims to unify diverse voices who are passionate about speaking up for injustice. Sales from the shirt benefit many women's organizations, like Girls Who Code, Planned Parenthood, and National Latina Institute for Reproductive Health.
So what can be done?
Like the women above stated, get involved. There are many racial biases women of color receive before even stepping in the door for a job interview. If you're applying to work at a company seriously lacking diversity, even a Spanish or non-American name on a resume can influence a hiring manager to move on to the next candidate.
Are there any racial biases you are contributing to on a regular basis? Like Longoria wrote in her Fortune article, if you are in a position of power (hiring manager, CEO, boss, etc.), lean in and help where you can. She points out that companies with a diverse employee range are proven to be 15 percent more successful than those who do not diversify.
Start small and host a fundraiser for an organization that supports women, like the ones mentioned above, or a specific organization for women of color in your area.
And don't forget, it's not just Latinas; women around America face inequality every day. Make sure you memorize some of the facts in this article to tell someone the next time you hear the words, "we are all born equal."