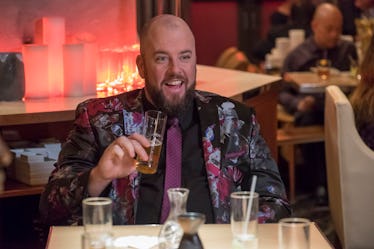 Toby's Parents Will Be On 'This Is Us' & We Can't Wait To Meet Them
Ron Batzdorff/NBC
Toby Damon a.k.a. Toby Bryant a.k.a. The Future Mr. Kate Pearson is one of the This Is Us' most delightful and adored characters. While he's not an official member of The Big Three, his goofy, good-natured attitude and unconditional devotion to Kate has won audiences over from the start. But what do we really know about Toby? His upbringing and his family has remained somewhat of a mystery. Fortunately, the guy's wedding is coming up, which means Toby's parents will be on This Is Us soon enough.
Season 2 of NBC's tear-jerking drama was clearly an emotional ride thus far. The introduction of Deja, Jack's tragic death and everything leading up to it, Kate's miscarriage, Kevin's downward spiral... It was a lot to handle. But everyone loves a wedding. It's the ending we fans deserve! (As long as nothing cataclysmic happens. Oh, please, don't do that to us.) And now that another year has passed and we've gotten a ton of insight into the Pearsons, we are so ready to meet the Damons. When asked by People about which family members viewers will meet at the big day, Chrissy Metz had this to say: "His parents are everything and nothing you'd expect!" So, they don't rock fedoras and Hawaiian prints, too? If they're nothing we can expect, are they super serious and uptight? This is going to be interesting.
Here's what we do know about Toby's family. For starters, his mother is a devout Catholic. He previously stated this when he would not call her when they suffered a miscarriage, because she would be disappointed that they were not married. And as of last night's "Vegas, Baby" episode, we learned that Toby has a brother who doesn't want much to do with him. He admitted to Randall and Kevin,
He couldn't make it this weekend, I doubt he even tried. I was 10 when he was born, so... I adored the kid since birth. I remember I was 16, I was such a nerd. I was like a Dungeons & Dragons by myself kind of nerd. You do not know what it's like to be a 16-year-old when your 6-year-old brother says he doesn't want to play with you anymore and you know that he means it.
Ah, Toby, you're breaking our hearts!
Now we're beginning to understand why breaking down those Pearson walls is so important to Toby. Thankfully, he has new bros that are willing to give him the time of day and attend his Bachelor party. Kev and Randy — actually, don't call him that — are just want he needed!
There are just two episodes left of This Is Us this season and the series finale will air on March 13. If knowing its almost over is enough to make you cry, don't fret — happy tears are on the horizon. Chrissy Metz promises some relief. "There is a bit of a twist, in true This Is Us fashion because the writers are genius," the actress confessed regarding the finale. "Tonally speaking: upbeat and joyous, through a very important catharsis."
Phew. That's just what we need right now. Creator Dan Fogelman also revealed that there are more enlightening flashbacks ahead. But what about those surprising flash-forwards? He explained to The Hollywood Reporter,
We didn't just do that to be splashy during the Super Bowl episode. Since the beginning that's been something we've known we were going to get to in the show. We had a lot of story we wanted to tell before we got there, but now that we've visited that time, nothing's off the table and we will certainly be returning there in the future.
Sterling K. Brown additionally divulged that "the season finale will answer some questions and, as always, explore new possibilities." We're looking forward to what those possibilities hold, and we just can't wait to see our beloved Toby-lerone and Katie Girl say "I do."