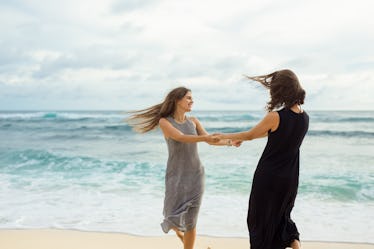 8 Tips For Incorporating Water Into Your Sex Life This Summer
Summer is here, and you're drenched. I don't just mean from the sweat (although, let's be honest — that too). You're in pools and on beaches and running through fountains, tapping back into your days of youth on the playground. It's summer, it's wet, and it's sexy. And if you love water, you can take it to the bedroom this summer. If you want to incorporate water into your sex life this summer, I have some tips for you.
Water in the bedroom can be a ton of fun. After all, liquid and wetness can represent some sexual pleasure (though not all of it, and wetness doesn't necessarily mean that you're enjoying a sexual encounter). Also, having a cup of water near the bed can be helpful if you're, you know, doing a lot of work with your mouth. Anyone who's ever seen Fast Times at Ridgemont High knows that the scene where Phoebe Cates emerges from the pool is just about the sexiest thing of all time (and I say that as a straight woman). Water, paradoxically, is hot, and it can certainly spice up your bedroom experience this summer (although, if it gets too spicy, try milk — it calms your mouth down faster).
Read on to find eight tips for incorporating water into your sex life this summer.