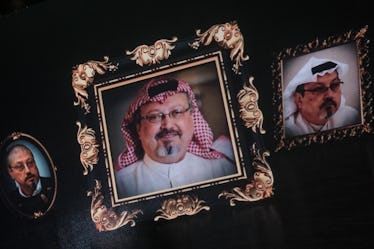 'TIME's Person Of The Year Highlights "The Guardians" For An Important Reason
Chris McGrath/Getty Images News/Getty Images
The year 2018 has been quite a wild ride. Between the endless celebrity Twitter beefs or strange TV moments, it might even seemed like this has been one of the longest years yet. Thankfully, it's finally coming to a close, which means lots of celebrations, pensive reflections and TIME's Person of the Year is on the way. Who is TIME's Person of the Year, you ask? It looks like multiple people won the cover.
A handful of journalists who were imprisoned, threatened, or killed as a result of doing their work won TIME's Person of the Year for 2018, and they're called "The Guardians." The group of people, officially announced on The Today Show on Dec. 11, include Maria Ressa, Jamal Khashoggi, the Capital Gazette of Annapolis, Maryland, and Wa Lone and Kyaw Soe Oo. Each individual group or journalist will get their own TIME cover.
This comes as a surprise, because as of Wednesday, Nov. 28, Trump was in the lead of a long list of names on the online betting site BetDSI. According to the outlet, Trump had a three-in-one chance of winning TIME's annual cover. He's had some competition, though: former NFL star-turned-activist Colin Kaepernick, and North Korean leader Kim Jong-un were trailing behind with both five-in-one chances of landing the title.
Although were are multiple other notable names on the list, including Michelle Obama, Pope Francis, Christine Blasey Ford (who captured national attention and praise when she went public with sexual assault allegations against judge Brett Kavanaugh back in September, which he denied), Trump has been gunning for the title. Elite Daily reached out to Kavanaugh to inquire about his denial, but has not heard back by the time of publication.
Still, on Nov. 20, Trump told reporters he couldn't see anyone winning the cover other than him. "I've been there before. I can't imagine anybody else other than Trump, can you imagine anybody else other than Trump?" the president said.
Trump was selected as TIME's Person of the Year in 2016, with the magazine pointing out that he was a polarizing figure who caught the world by storm with his race, strategy, and subsequent win for the White House.
In 2017, he claimed that he'd been offered the title again, but rejected. "TIME Magazine called to say that I was PROBABLY going to be named 'Man (Person) of the Year,' like last year," he wrote on Twitter. "But I would have to agree to an interview and a major photo shoot. I said probably is no good and took a pass. Thanks anyway!"
However, the outlet refuted his claim, calling Trump "incorrect" and noting that it doesn't comment on their selection for the title until they are published in the magazine.
Ultimately, TIME chose The Silence Breakers ― "the individuals who set off a national reckoning over the prevalence of sexual harassment" ― for the 2017 cover. The cover included multiple women (and men) who came forward with claims during the #MeToo movement, including actresses Ashley Judd and Rose McGowan. (Both women accused now disgraced producer Harvey Weinstein of sexual misconduct. Weinstein denied both Judd's claims and McGowan's allegations.). The cover also featured actor Terry Crews, who accused talent agent Adam Venit of sexually assaulting him at a Hollywood party in 2016. (Venit denied the allegations, but later issued an apology to Crews.)
TIME's Person of the Year has typically been released in early December — and now that it's been released, the country finally knows who made it onto the cover.