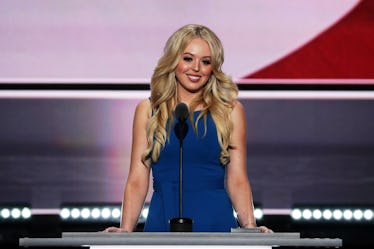 Tiffany Trump Is Friends With Joe Biden's Granddaughter, & This Is Awkward
Alex Wong/Getty Images News/Getty Images
Just because you're the president's daughter doesn't mean that you're not allowed freedom to hang out with whomever you choose, right? Well apparently that's how Tiffany Trump feels, because she was spotted hanging out with a member of the Biden family. Tiffany Trump's Instagram with Naomi Biden, Joe Biden's granddaughter, is honestly kind of awkward, given the state of politics right now. But hey, Trump is her own person, right? And she can do whatever she wants.
Trump posted a picture of herself and Biden's granddaughter, Naomi Biden, to her Instagram story on June 9 while spending the weekend in the Hamptons, according to People. In the black and white snapshot it looks like the duo were enjoying some drinks while out on the water in a boat. Trump and Naomi Biden actually went to college together at the University of Pennsylvania and both graduated from the institution in 2016. Trump tagged Naomi Biden's Instagram handle in the picture and added a little animation of two intertwined hearts at the bottom.
It's kind of surprising that Trump and Naomi Biden are friends. Their father and grandfather, respectively, are vocal critics of each other. The former vice president has even been rumored to have the intention of running against Trump in the upcoming 2020 presidential election. But hey, I guess anything is possible in this life. And it's great to see that party politics aren't getting in the way of their friendship, which I think anyone can agree is a seriously great thing.
It's definitely a cute picture, but I admit to being a little confused as to how these two can possibly be friends. Trump's father and the former vice president have gone for each other on multiple occasions, and personally I feel like I wouldn't be able to hang out with someone that viciously attacks someone that I love. On March 22 the president tweeted about Biden when he effectively said that he can take him down in a fight. The attack came after Biden suggested that he would "beat the hell" out of President Trump if they were in high school. The tweet stated,
Crazy Joe Biden is trying to act like a tough guy. Actually, he is weak, both mentally and physically, and yet he threatens me, for the second time, with physical assault. He doesn't know me, but he would go down fast and hard, crying all the way. Don't threaten people Joe!
If I were Biden's granddaughter, I don't know if I would want to hang out with anyone that attacked my grandfather in such a harsh and public manner. These two effectively said that they would knock each other out, which indicates to me that they are not on the best of terms.
Also, if I were Trump I don't know if I'd want to hang out with someone that's related to an adversary of my father's. Biden has called the president "a joke" and has been very overtly critical of his administration. I'd probably be a little fearful of what the press might say or how this would be interpreted by the president or any of his supporters. But I guess Trump marches to the beat of her own drum. Trump's relationship with her dad has also been reportedly gotten much worse since he's taken office in 2017, according to W Magazine. So maybe she doesn't feel the need to align herself with only the people that her father would approve of — which is pretty great in my opinion.
Whatever the case may be for their friendship, it's really nice to see that two people with last names that carry as much weight as the Trump and Biden names can still hang out with no ill will. Could this mean that their father and grandfather might also have a shot at becoming friends? I don't think it's likely — but as I said earlier, anything is possible.