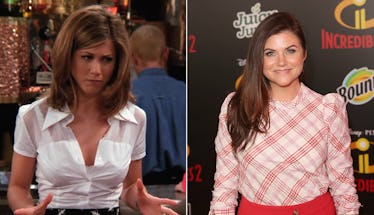 Tiffani Thiessen Almost Played Rachel On 'Friends,' But It Didn't Happen For This Reason
NBC/Jesse Grant/Getty Images Entertainment/Getty Images
Here's a bit of random casting news that might just blow your '90s nostalgia mind: A Saved By the Bell alum could have been a regular at Central Perk. Yup — Tiffani Thiessen almost played Rachel on Friends. The cookbook author and actress formerly known as Kelly Kapowski tested for Jennifer Aniston's memorable role, but ultimately didn't nab the part because of her age.
"Did you know I tested for Friends, for Jennifer Aniston?" Thiessen revealed on Monday, Oct 1's SiriusXM's You Up With Nikki Glaser. "I was just a little too young. I was a little too young to the pairing of the rest of them."
In the words of Rachel Green: "Isn't that just kick-you-in-the-crotch-spit-on-your-neck fantastic?" I kid. I kid. Sure, Friends would have obviously been a life-changing career boost for Thiessen. I mean, it's only one of the most popular shows of all time. But she did end up landing an unforgettable part in another iconic series (shout out to Beverly Hills 90210's Valerie Malone!) following her time at Saved By the Bell, and she's been working steadily ever since. Plus, Jennifer Aniston seems like she was pretty much born to play Rachel. Let's call this one a win-win, OK?
These days, Thiessen stars on the hit Netflix comedy Alexa & Katie. Prior to that, she had a lead role on USA's White Collar for six seasons and appeared in shows like Good Morning, Miami, Fastlane, and Two Guys and a Girl. In addition to her acting gigs, Thiessen's taken the food world by storm. She headlined her own Cooking Channel series, Dinner at Tiffani's, and just released her first cookbook, Pull Up a Chair. Sidenote: I made her maple fennel bacon once and it was good. Just saying.
Thiessen is part of a long list of celebrated group of actors who almost got to be a part of the Friends juggernaut. Tea Leoni (Madame Secretary) was reportedly a frontrunner for Rachel, but she turned it down for the ill-fated The Naked Truth. Jane Krakowski (30 Rock) was also a Rachel hopeful.
"I, like almost every actor in the world, auditioned for Friends," Krakowski lamented back in 2015. "I wish I had gotten that one. I actually auditioned for Rachel and didn't go very far."
Um, if there's an alternate entertainment universe where Jenna Maroney might not exist because Jane got the part of Rachel Green, I don't want to know about it.
One of Thiessen's Saved By the Bell co-stars also reportedly tried out for Rachel. That would be Elizabeth Berkley, aka Jessie "I'm so excited" Spano. She obviously didn't get it, but she's not the only one. Even Jennifer Aniston wasn't given the chance at first.
"We originally offered Rachel to Courteney Cox, but she said she wanted to do Monica, not Rachel," co-creator Marta Kauffman told Vanity Fair. The producers had "Janeane Garofalo's voice in mind" when writing Monica, who was originally supposed to be edgier and darker.
Friends was also supposed to be titled Six of One, so the sitcom clearly dodged a slew of potentially negative decisions. It's safe to say the directions it went in worked out for the best.