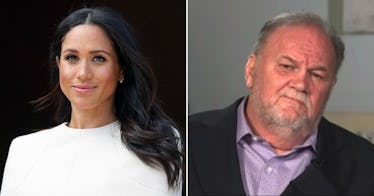 Meghan Markle's Dad Is Thinking About Doing This Extreme Thing To Make Amends With Her
Chris Jackson/Getty Images Entertainment/Getty Images ; YouTube/GoodMorningBritain
For Meghan Markle, becoming the Duchess of Sussex isn't without its worries. First, there's all the royal protocol to memorize. Second, there's the pressure of public appearances. And third, at least for Meghan, is the frustration of family woes. It's no secret that Meghan's father, Thomas Markle, has made himself look a bit shifty these last couple months. But now he's concocted a one-sided plan to meet up with his estranged daughter. So, what does Thomas Markle's plan to make amends with Meghan Markle look like? A huge, disappointing mess.
In an interview with The Sun, Markle explained that he's been all but shunned by the royal family, including his famous daughter. But don't fret for Mr. Markle just yet! He's equipped with plenty of ideas about how to touch base with Meghan.
"If I chose in a month, or couple of months, to go to En­g­land — I want to see my daughter," Markle told The Sun. "I'm thinking about it."
He's thinking about it, but not doing it just yet. And for good reason. An insider source recently told Entertainment Tonight that Meghan and her husband Prince Harry are "frustrated" by her dad's need to blab to the media.
"They are frustrated he keeps speaking to the tabloids and taking payment for interviews," the source said.
That's totally understandable, but it's not going to stop her dad from trying to see her.
"I don't care whether she is p*ssed off at me or not ... I'm not going to wave flags and make a fool of my­self. I'd find a hotel room and try to reach them," he explained.
Elite Daily has reached out to Kensington Palace for comment on Markle's plan, but has not heard back at the time of publication.
To some, it might seem like Markle is going about this the wrong way, but he simply doesn't see it that way. All he sees is that his daughter is not speaking to him and he wants to make amends. At least, according to him.
"It's sad that it's got to this point. I'm sorry it's come to this," he explained. "Yes, some of it is my fault. But I've already made it clear that I'm paying for this for the rest of my life."
The silence from Meghan and the palace doesn't exactly come as a surprise. Markle was allegedly selling stories to tabloids in the weeks leading up to the royal wedding. To top all that off, he reportedly developed a serious heart condition, forcing him to back out of appearing at his daughter's wedding.
While speaking to The Sun on Sunday, Markle mused about his daughter's well-being and theorized that she is "terrified" of her new royal role.
"My thing about my daughter right now is that I think she is terrified," he said. "I see it in her eyes, I see it in her face and I see it in her smile. I've seen her smile for years. I know her smile. I don't like the one I'm seeing now. This one isn't even a stage smile — this is a pained smile."
So, is Meghan truly terrified of her place in the royal family? I can see how it would be intimidating. But she's only two months into the marriage and she still has a lot to learn. I'm sure it'll get easier with time!