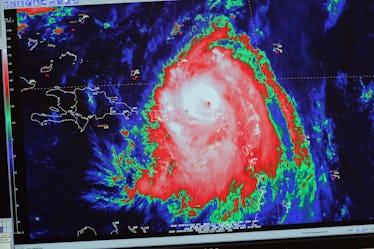 This Weather Map Looks Like Something Rated-R & The Comments Have Us Dying
Joe Raedle/Getty Images News/Getty Images
I've definitely seen my fair share of strange weather reports, but I don't know if a weather report like this one has ever occurred before. And if it has, it definitely didn't get as much attention as this particular one did, thanks to its very obvious, "can't help but notice" phallic shape. Your daily dose of ridiculously hilarious news today is brought to you by this weather map shaped like a penis, and I cannot stop laughing at the comments.
This map was definitely not a joke by any means, but turned out to be a hilarious one after it was posted to Facebook. The Gulf Coast Storm Center posted the map to their page on Jan. 15 to alert all those living in the Gulf Coast region to a winter weather system moving toward the east. A winter storm warning was in effect for a large chunk of Texas, parts of Louisiana and Arkansas, and trickled into parts of Mississippi.
But the areas affected by the winter storm warning serendipitously formed into a shape that I think any human pre-teen aged or older couldn't help but recognize. And it didn't exactly help the weather center out that they chose to highlight the winter storm system in hot pink against a otherwise muted purple background. I mean, take a look for yourself and tell me you don't see it.
This penis-shaped winter storm system is literally begging to be joked about.
And luckily many people decided to publish their jokes in the comments section of the photo — and had a field day.
One user commented on the inches of snow this system was expected to bring in to the affected areas, and joked, "I'm sick and tired of being promised 6-7 inches and only getting 4!!!" Another user replied to the inches comment saying, "Well it's probably because your [sic] messing with the wrong weather guy."
When was this storm expected to come (pun definitely intended)? A user guessed that the "storm [was] expected to schwing in overnight..." Another user suggested some nicknames for the storm, inquiring "Is this Winter Storm named Johnson or Richard?"
Other users were concerned about how long this storm would last. One warned that, "If this storm lasts longer than 4 hours, seek immediate medical attention." Said another, "Don't expect this storm to pull out quickly...."
People were also commenting on the potential severity of the storm, with one user saying, "Storms definitely going to penetrate deep down south."
Another user hoped for the best. After all, major winter storms aren't exactly common in the South. They wrote,
Hopefully since it's the first time in a while the storm will prematurely finish, and start to rest a little early leaving us very unimpressed with the overall experience.
But in all seriousness, this storm system has sent states along the Gulf Coast into a panic.
The winter storm (which has actually been dubbed Winter Storm Inga, not Richard), has caused more than 800 flights in Texas to be been grounded as a precautionary measure, according to CNBC. North Carolina and Alabama even declared states of emergency on Jan. 16 due to the potential risky travel conditions this storm could cause once the system hits their states.
This is not the first time we've seen freak winter weather this season, either. Just after we rang in 2018, much of the East Coast was under the attack of a bomb-cyclone that left many areas under tens of inches of snow for days. And there have been numerous counts of record breaking lows this winter all across the country, including a century-old record breaking cold streak in Boston.
So as funny as the shape of Winter Storm Inga is, the underlying issue is pretty serious. Snow like this is unheard of in the South. So if you didn't already believe in climate change, maybe now you will. I mean just the sheer size and girth of this storm alone should make anyone a believer.