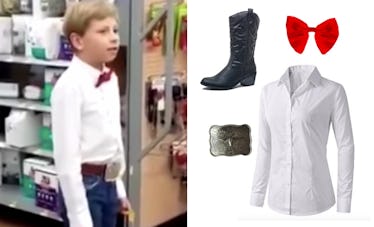 The Walmart Yodeling Kid Is The Meme You NEED To Dress Up As For Halloween
Halloween isn't only a time to be spooky. It's also a time to mimic the most popular memes of the year — and anyone who's been paying attention to viral content on the internet in 2018 definitely knows who the Walmart Yodeling Kid is. The 11-year old yodeler — aka Mason Ramsey — went viral after a video of himself singing "Lovesick Blues" in an Illinois Walmart hit the web. After getting over 58 million streams on YouTube, Ramsey deserves a Halloween costume to be made in his honor. Thankfully, making a Walmart Yodeling Kid Halloween costume is super easy to do.
If you need some extra inspiration, go ahead and watch Ramsey's video again. As you can see, his outfit is simple and easy to replicate if you have the right supplies. However, if you're hoping to really act like the Walmart Yodeling Kid at your friend's Halloween party, you might want to consider taking a few singing lessons. I guarantee you that when the DJ stops at your spooky bash, your friends are gonna pass you the mic to show off those yodeling skills.
Regardless of whether you can perform or not, you'll still want to show off the country-western look that Ramsey pulls off.