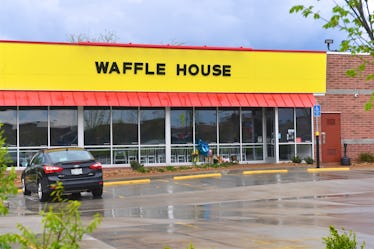 A Waffle Food Truck Exists To Make All Your Breakfast Dreams Come True
Jason Davis/Getty Images News/Getty Images
The fact that there are people in this world who prefer pancakes over waffles will never fail to baffle me. I get it — it's just personal preference —but it's truly something I'll never understand. And if you just so happen to be one of those pancake-loving people, please step aside, because National Waffle Day is coming up and celebrating it in the right way is absolutely mandatory. So, if you're down to celebrate one of the most glorious breakfast foods the best way, this Waffle House food truck is honestly perfect for partying it up on National Waffle Day on Friday, Aug. 24. Trust me — it'll be a waffle lot of fun!
If you've ever driven south along the East Coast of the United States, there's a pretty good chance that you stopped at a Waffle House along the way. Aside from getting out to stretch your legs and quickly down a coffee, you most likely enjoyed one of the chain's signature giant waffles, a bowl of crispy hash browns, and, of course, any of the deliciously flavored syrups that are available to top your golden waffle. My family and I have always loved Waffle House, and I was beyond elated to find out that, according to KXAN, the Atlanta-based Waffle House has a catering truck you can rent for any and all parties nationwide — like for National Waffle Day celebrations on Aug. 24.
According to KXAN, if you don't live anywhere near Atlanta, the price of renting a Waffle House truck is slightly exorbitant. To start, there's a $90 rental fee, and then it's $50 per hour based on mileage to and from the event. Then, you'll estimate how many people you'll need to feed, which will calculate your final total. All you'll have to do ahead of time is make a 50 percent deposit. Perhaps it's something you'll want to suggest to that wealthy uncle of yours, or to your boss for any office Christmas (or National Waffle Day) party ideas. I'm just spitballing, really, because in case you couldn't tell, I desperately want to be invited to a waffle party.
Per Waffle House's website, the Waffle House truck is a super convenient way to feed lots of people at once, and it's perfect for pretty much any event (yes, especially when it comes down to celebrating the ever-sacred waffle).
The Waffle House website says,
Waffle House Catering will deliver and drop off your desired menu choices to you anytime that you need us to! Perfect for early morning business meetings, private special events or pre game meals and tailgates. Another great option would be for us to deliver and set up your food buffet style for you and your guests to enjoy!!
So, how are you celebrating National Waffle Day? If your answer is: "with frozen waffles," please don't even bother answering. As good as those babies are, nothing beats a fresh, warm, and crispy waffle right off the press. If you do end up deciding to rent a Waffle House truck, please take lots of pictures. Oh, and also please send me an invite. Anyway, I'm wishing you all a Merry Waffle-mas!