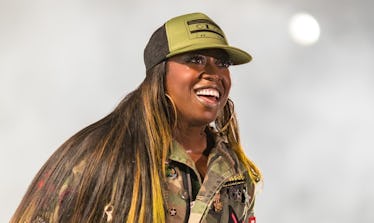 This Viral Video Of A Woman Rapping Missy Elliott's "Work It" Is Too Amazing For Words
Christopher Polk/Getty Images Entertainment/Getty Images
Missy Elliott is a music icon. She's wowed everyone with her sheer talent, creativity, and unabashed lyrics. Plus, her 2002 hit "Work It" has more than made its mark on pop culture history. "Work It" is such a huge hit that its infectious beat has moved the hips of those young and old. Some people are even going as far as to perform the entire song. Take this viral video of a woman rapping Missy Elliott's "Work It" for example. It's so entertaining that you won't be able to contain yourself.
In the video, an older lady who calls herself "Missy's Funky White Sister" takes the stage at a karaoke event and raps her heart out. She's clearly a Missy Elliott fan and she's absolutely not afraid to let her love for the music icon show. Her passion for the song is so contagious that people in the background are also moving to the beat.
The woman, whose real name remains a mystery at this point, even goes as far as to do the sound effects the song is so famous for. And she kills it!
Oh, and did I mention she's holding a bull horn? Like, a literal one. The whole scenario is incredibly funny. Even Missy Elliott herself thought so.
Missy shared the video on her Twitter account on Tuesday, Aug. 7 with the following caption:
I just found out I have a FUNKY WHITE SISTER 😳😩😂🤣forreal doe😂🤣& she brought her home girl with her from da hood that keep tip toeing in the background with a plate of food🤣 yo I'm done!😂 but she straight killed "Work It" sound effects & all🙌🏾 I love it🔥🙌🏾
Here's Missy's now viral tweet:
After tweeting the video out to her 6.5 million followers, Missy followed it up with an update:
Wait her friend has a cup of oodles & noodles tipping in the back I think! Lord! Go awwwwf🙌🏾🙌🏾🙌🏾🔥🤣
Missy also posted the video to her Instagram account with some additional (and hilarious commentary):
Yo sis done made the elephant sound too🐘🤣😂 I wasn't ready for her to say put the 😸 on ya like I told ya in a low deep voice😩😂she straight up killed "Work it" with the yea yea yea at the beginning & the sound effects & all🙌🏾🙌🏾🙌🏾🙌🏾😂 my funky white sis ft Miss Tippy Toe in the back🔥🤗❤️
Clearly, this lady and her incredible rapping skills have given Missy something to have a good laugh over. Missy's fans are laughing, too. They literally can't stop talking about it. They were showing up much they loved the video in the comments.
One Instagram user wrote, "i love her omg legend lol the woman in the background haha they are awesome."
"Crying lol my stomach hurts....." another user wrote. I think they speak for everyone with that comment. I'm still cackling over this video.
Honestly, these ladies are two viral stars in the making. Here's hoping they make it to The Ellen Degeneres Show sometime soon!