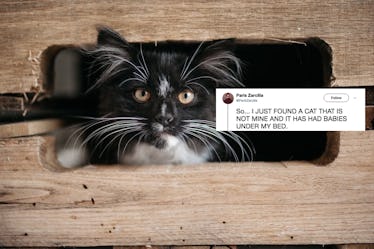 A Random Cat Gave Birth Under This Guy's Bed & His Twitter Thread Is Going Viral
If you're as organized as I am (which, let's be honest, isn't very organized in the slightest), you'd probably be able to find a lot of surprises hiding under your bed. You might find an old pair of jeans you thought you got rid of at the end of 2012, or some dorky tote bag you don't even remember buying in the first place. Recently, one guy found a litter of kittens hiding under his bed, and it may have been the most shocking (and most exciting) under-the-bed discovery known to man. If you haven't already seen this viral twitter thread about a cat who gave birth under a guy's bed, it will seriously make your day.
The story of how all of this happened is pretty wild, let me tell you. According to Bustle, the story begins with Paris Zarcilla, a London-based filmmaker who was merely in search of some extra layers to combat the relentlessly dreary London weather. Zarcilla went upstairs to his bedroom, simply expecting to find a pile of sweaters underneath his bed — and instead, he ended up discovering a black and white tuxedo cat curled up with four teeny, tiny kittens. Considering the fact that Zarcilla wasn't a cat owner at the time, this (understandably) came as a huge surprise. Seriously, can you imagine?
As you'd most likely expect, Zarcilla's initial reaction was shocked, surprised, and probably quite confused. I mean, really, he was beside himself. This was a pretty life-changing discovery, and it made way for a lot of questions.
While I'm sure many would panic and look into the nearest ASPCA after finding a random litter of cats under their bed, it's clear that Zarcilla was immediately intent on becoming a cat dad — and I am SO. HERE. FOR. IT.
Clearly, Zarcilla was incredibly focused on putting any and all of his newly bestowed #CatDadPriorities first. It looks like he wanted to keep the kittens at that moment in time, and he recognized that it was his role to provide for them in all aspects. It definitely seems like he's ready to do so.
Thankfully, though, Zarcilla didn't seem too invested in his cat dad duties to give cuteness updates, and for this I am thankful. Cuteness updates are absolutely vital.
It also appears that this discovery is the furry blessing that Zarcilla needed. A furry friend (or five) can be necessary for mental health, and it looks like this is what he's been needing for a while.
So... you're probably wondering how all of this happened in the first place. How did the cats find Zarcilla? Why did they end up under his bed? Was it fate? Well, there still isn't a definitive answer, but based on Zarcilla's Twitter thread, he seems to think it's because he leaves his back door open frequently. Thus, it's most likely a neighbor's cat.
Apparently, Zarcilla is going do the right thing and see if he can track down the owners. And even though there's a chance this cat belongs to somebody, he's still pretty intent on the idea of becoming a cat dad. But cheers to him for actually seeking out the owners, because I'd probably just keep them for myself, TBH.
Wow, am I going to wake up one day with a litter of kittens hanging out under my bed? This seriously seems like a blessing in disguise. If I randomly came across five black and white kittens under my bed, I'm not even sure if I'd be able to contain myself. I am way too excited for this.