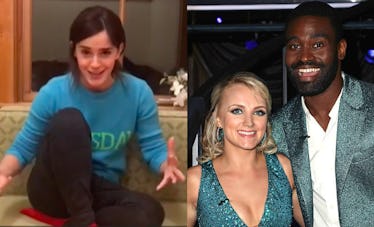 Emma Watson & The Cast Of 'Harry Potter' Reunited To Wish Evanna Lynch Luck On 'DWTS'
BBC/David Livingston/Getty Images
The season finale of Dancing With The Stars went down on Monday, Nov. 19, and in what fans of the show are calling one of the biggest robberies in the show's history, country music radio personality Bobby Bones won over Disney Channel star Milo Manheim, model Alexis Ren, Harry Potter's Evanna Lynch, aka the Luna Lovegood. Before the night's big upset, however, a few of Lynch's good pals from Hogwarts wished her luck in the final, and the video of the Harry Potter cast wishing Evanna Lynch luck on DWTS is bound to get every Potter fanatic feeling nostalgic as hell.
Evanna Lynch and her partner, Keo Motsepe, were a fan favorite to win the mirror ball trophy on the show's finale on Nov. 19. Between her and Motsepe's waltz to the Harry Potter theme music earlier in the season to her final performance in the freestyle portion of the competition on Monday night, Lynch proved she was having the time of her life dancing on the show. Fans were really rooting for Luna Lovegood to take home the gold.
Despite her heartbreaking loss on the show, though, the messages of support from Emma Watson, Tom Felton, Bonnie Wright, Matthew Lewis, Katie Leung, James Phelps, and J.K. Rowling herself were heartwarming.
"Evanna, you are in the final. Can we just say this again?! You are in the final!" Hermione, uh, I mean Emma Watson, started off. "I am so proud of you. I don't know where those dancing skills came from, but you are unbelievable. We are so proud of you, we love you, we are rooting for you, kill it tonight, girl!"
Then came Draco Malfoy, aka Tom Felton. "Evanna, my darling," he said, "despite all of our differences at Hogwarts, I want to wish you all the very best tonight. Keep making us all proud." Oh, Draco.
The video is seriously amazing for any Harry Potter fan out there.
Ginny Weasley, aka Bonnie Wright, came in next with her words of support. "Bonnie here, your fellow Hogwarts alumni," she said. "Wishing you all the best tonight, Evanna and Keo. Team Kevanna!"
And the love didn't stop there! Fred Weasley, aka James Phelps, said in his video (during which he appears to be in some kind of sports club? Gym? Where the heck is he in this?), "I've seen all your progress that you've been doing, how much hard work you've been putting in and you can really tell. Looks fantastic. All the best!"
Cho Chang was next. Actress Katie Leung said to Lynch, "It has been such a privilege to be able to watch you perform and to see you in rehearsals, because I got to witness your dedication, your passion. I love you so, so much. Best of luck!" I don't think I can take much more of this HP love!!
Oop, spoke too soon. Then came Neville Longbottom, better known by his real name, Matthew Lewis. "I cannot believe that you are through to the final, the final of Dancing With The Stars!" Lewis said. "I mean, that is mind-blowing. Bring it home."
And just to really seal the deal on my tears, J.K. Freaking Rowling appeared at the end of the video to say, "Best of luck, Evanna! Hope you win!"
Semi-reunited and it feels so gooooooooood!
And now, I shall leave you with Evanna Lynch's Harry Potter tribute.
Luna was robbed!! Robbed, I tell you!!