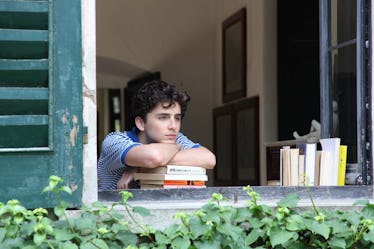 The 'Call Me By Your Name' Oscars Performance Was So Emotional & You Need To See It
Warner Brothers
While the Best Picture race is wide open for the Oscars 2018 ceremony, the musical performances have been set since the nominations were announced. That is, the songs were set, not who would perform them. But a chance to perform at Hollywood's biggest night is hard to pass up, which is why it was a relief to hear that Sufjan Stevens had agreed to perform "Mystery of Love." And Call Me By Your Name's 2018 Oscars performance has been one of the most highly anticipated of the evening.
To be fair, all the evening's performances were highly anticipated, including legendary R&B diva Mary J. Blige, who is nominated for both Supporting Actress and Best Song for Mudbound. Miguel, Common, and Andra Day were also slated to perform music from nominated films Coco, Marshall, and The Greatest Showman, respectively.
"Mystery of Love" was the song featured most prominently in Call Me By Your Name's advertising campaign, in the original trailer, and in two of the film's climatic scenes. The whisper-y indie track has been earworming itself into fans' heads since the movie's release, and a live performance by the legendary artist Stevens is a rare treat for the Oscar stage.
Stevens has been on the indie folk scene since 2000 and was one of those who pioneered the indie sound of the early aughts that most associate with the genre. Originally from Detroit, Michigan, he co-founded his own label, Asthmatic Kitty, with his step-father in order to start his musical career.
Call Me By Your Name is currently nominated in four categories, including Best Picture, Best Original Song, Actor in a Leading Role for actor Timothée Chalamet, and Best Writing in an Adapted Screenplay. Fans were blown away by the touching coming-of-age portrait of the beginning of a relationship between Chalamet as Elio Perlman and Armie Hammer as Oliver when it was first released at Sundance a year ago, in 2017. When the film was finally released in full to theaters in October in the UK and November in the U.S., it was seen as a shoo-in for this year's Oscars.
But since then, its fortune has not been so favorable. The film was nominated for several Golden Globes as well as Screen Actors Guild Awards in January, as well as the BAFTAs last month in February. But except for a rare win here and there, including at the Independent Spirit Awards last night, March 3, for Chalamet for Best Actor and Sayombhu Mukdeeprom for Best Cinematography, it's been mainly shutout for most accolades.
That doesn't bode well going into March 4's Oscar Sunday, especially in a race where the main contenders (The Shape of Water and Three Billboards In Ebbing, Missouri) find themselves having their heels nipped at by popular fare like Get Out and Lady Bird. That hasn't left a lot of oxygen for Call Me By Your Name to gain much traction.
But that hasn't kept the makers of the film from considering it a triumph to get to the Oscars in the first place. Sufjan Stevens was overwhelmed by the way his song was used in the film — and at the opportunity just to be nominated. Talking to Variety, he said,
It's an incredible performance. For Timmy to be positioned in that way and for the camera to be unchanging and unflinching, with his spectrum of emotions being displayed like that, it's so insane, and beautiful and profound. And all the while, there's the clatter of cutlery and plates being set for dinner in the background! Which is also really beautiful.
Even if the film does not take home anything tonight, they've given us a beautiful performance to enjoy for years to come.