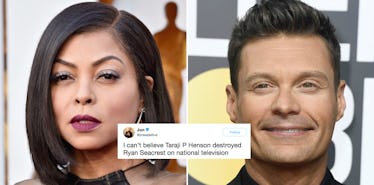 Fans Think Taraji P. Henson Threw Major Shade At Ryan Seacrest In This Oscars Interview
Frazer Harrison/Getty Images/Twitter
The 2018 Oscars were a bit of a night. While the night was largely focused on celebrating diversity and things like the Time's Up and #MeToo movements, there was a lot of shade thrown as well, and viewers think one of the shadiest moments of the night came before the show even started. This video of Taraji P. Henson "shading" Ryan Seacrest at the 2018 Oscars has people on Twitter convinced the actress was throwing massive shade at Seacrest, who is one of the most recent men to be accused of sexual misconduct in Hollywood. Elite Daily reached out to Henson's team for comment on the video, but did not hear back by time of publication.
Seacrest was originally accused of sexual assault and harassment by his former stylist, Suzie Hardy, back in November of 2017. The details of Hardy's claims were not made public at first, but Seacrest responded to them in a November statement that read,
Recently, someone that worked as a wardrobe stylist for me nearly a decade ago at E! News, came forward with a complaint suggesting I behaved inappropriately toward her. If I made her feel anything but respected, I am truly sorry. I dispute these reckless allegations and I plan to cooperate with any corporate inquiries that may result. I treat all my colleagues with kindness, dignity, and understanding, as this is a principle that's core to who I am. Throughout my 25 years in the entertainment industry, the majority of my co-workers have been women, and I've endeavored to foster a positive work environment of mutual respect and courtesy, as that's how I believe it should be. I'm distraught that anyone or any situation would call that into question. I'm proud of my workplace reputation, and believe my track record will speak for itself. I'm an advocate for women. I will continue to support their voices.
Hardy's more-detailed claims were reported by Variety on Feb. 26. In the letter from her lawyers, Hardy makes claims of "years of unwanted sexual aggression," explaining one encounter during which Seacrest was allegedly "grinding his erect penis against her while clad only in his underwear, groping her vagina, and at one point slapping her buttock so hard that it left a large welt still visible several hours later."
E! conducted an investigation into the claims against Seacrest, which was completed in February of 2018. E! said in a statement that its investigation resulted in "insufficient evidence" to prove Hardy's claims. E! said in a statement to People,
E! has now concluded the investigation into allegations regarding Ryan Seacrest. The investigation, conducted by outside counsel, found insufficient evidence to support the claims against Seacrest and therefore could not be substantiated. E! is committed to providing a safe working environment where everyone is treated with respect and dignity.
On Oscar Sunday, March 4, Taraji P. Henson took a few minutes to speak with Seacrest, whose presence at the Oscars was seen as problematic to many due to sexual assault allegations issued against him. Henson and Seacrest had been talking about other Oscars attendees who were having the time of their lives this awards season when Henson responded, "You know what, the universe has a way of taking care of taking care of the good people. You know what I mean?" Then she tapped his chin in a way that could either come off as her saying, "Hang in there, buddy! You'll be OK!" or, "We all read the sh*t about you. We know. And karma's coming."
People on Twitter definitely think it's the latter.
There are those who don't think Henson was throwing shade at all, based on how the rest of the interview went.
But then Henson moved on to another red carpet interview with Wendi McLendon-Covey, who was interviewing Oscars attendees for ABC.
When McLendon-Covey asked Henson how she was doing, Henson responded with, "I'm great now that I'm in your company." People on Twitter took this as more evidence of shade toward Seacrest.
Henson responded to the Twitter talk about her "shading" Seacrest to set the record straight, saying she wasn't throwing any shade at all. She was actually trying to lift his spirits amid all of the allegations surrounding him. "I did it to keep his chin up," Henson told People. "It's an awkward position to be in. He's been cleared but anyone can say anything." No matter what Henson's intentions with her comment was, I'm going to go ahead and label this entire exchange a big yikes.