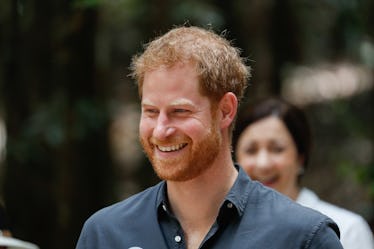 Prince Harry Put On A Speedo Over His Pants In Australia, Which Is Exactly Why You Love Him
Chris Jackson/Getty Images Entertainment/Getty Images
Who says the royal family is too prim and proper to joke around? Definitely not the people of Australia, that's for sure. During their current tour of the land down under, Prince Harry and Meghan Markle have shown just how human they can be. And nothing proves that more than this video of Prince Harry putting on a speedo... over his pants, of course!
In a Sunday, Oct. 22 appearance at an Invictus Games event in Sydney, Harry sat down to chat with athlete Dylan Alcott and Invictus Games competitors Nicole Bradley and Matt Model. During the chat, which aired on ABC TV Australia, Harry was presented with a pair of speedos (also called 'budgie smugglers' in Australia) as a gift. Although the gift was quite odd, Harry took it all in stride. According to US Weekly, Harry gave some hilarious commentary while looking the pair of speedos over.
"Oh, look at those! It doesn't get better than that, does it?" he said. "And this type of silk camouflage, I've actually never seen it. Only in Australia would you ever find something like this. It's so wrong, but it's wonderful."
If that doesn't make you laugh and love Harry even more, then I don't know what will. He clearly has a sense of humor about the whole thing and that's all anyone can hope for, really. I doubt the Queen or even Prince Philip, Duke of Edinburgh, would have given the gift as much consideration!
In any case, Harry continued being a good sport about the speedos gift by posing with the athletes for some photos. First, though, he made sure to put the speedos on over his pants for the photo. And the video is really, really funny. Here's a look at how it all went down:
Harry and Meghan's trip to Australia has been quite an eventful one. When it kicked off in mid-October, Kensington Palace made the happy announcement that the couple would be expecting their first child together in the spring of 2019. And that, of course, set royal fans ablaze with total excitement.
"Their Royal Highnesses The Duke and Duchess of Sussex are very pleased to announce that The Duchess of Sussex is expecting a baby in the Spring of 2019," Kensington Palace wrote in Oct. 15 statement on Twitter. "Their Royal Highnesses have appreciated all of the support they have received from people around the world since their wedding in May and are delighted to be able to share this happy news with the public."
Just five days later, during a speech at the Invictus Games Opening Ceremony, Harry gushed about his wife, their new baby, and the kindness shown to them by the people of Australia.
"Thank you for the welcome you have given Meghan and I over the last few days," Harry said. "I have been so proud to be able to introduce my wife to you and we have been so happy to be able to celebrate the personal joy of our newest addition with you all."
So, this is quite a joyous time for Harry. No wonder he was such a good sport about all that speedo business!