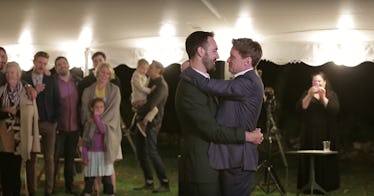 A Couple Shocked Their Wedding Guests With A First Dance That'll Make You Happy-Cry
I'm not getting married any time soon so, to be fair, I can't give you a whole lot of detail on what my wedding day will be like. But I can assure you of one thing: the dance won't be that great. Why? Well, because I suck at dancing. I took a hip-hop dance class back in middle school and I was placed so far in the back right corner that I was pretty much backstage. Basically, this video of Noah and PJ's first wedding dance is exactly what you should not expect for my wedding day.
Why not? Well, because it's pretty much the best thing you'll ever see for as long as you live. OK, maybe that last statement was a little dramatic. But only a little. Seriously, people, this video is what wedding dance dreams are made of.
What made it so, incredibly wonderful was that it had all of the elements of the perfect wedding dance and then some.
You see, for those of you who haven't been to a wedding, the couple often chooses a standard love song for their first dance. They typically do a simple waltz while they whisper sweet nothings in each other's ears and... that's about it. But Noah and PJ's wedding dance was no usual first dance (and, based on the dance, I'm going to go ahead and guess that they're also no usual couple).
Watch the fantastic video for yourself here and then we'll break it down to explain exactly what it was that made it so incredibly perfect:
All right, I'll give you a second to wipe the happy tears off of your face before we dive in.
First and foremost, I have to point out how totally in love the couple looks right from the get-go as they slow dance to Morgana King's "It's A Quiet Thing." Loving eyes for each other? Check. They already have the first box of a successful wedding dance checked off before the real fun starts to happen.
Now, moving on, we have the surprise factor. They totally fake their guests out by making them think the sound system stopped working during the beginning of their seemingly normal dance. Little do they know the actual dance is just about to start.
And then, of course, we get to the actual dance which was nothing short of perfect with pretty much the best soundtrack of all time from Gloria Estefan's "Conga" to C+C Music Factory's "Everybody Dance Now" to Madonna's "Vogue" to KC & The Sunshine Band's "Get Down Tonight" to, of course, "Time of My Life" from the Dirty Dancing soundtrack. LGBTQ Nation even referred to their song choices as "a smorgasbord of gay anthems."
Finally, I would be doing a disservice by failing to mention the fact that both Noah and PJ are incredible dancers who must have trained extremely hard for the phenomenal show. In the description of their YouTube video they thank Wil Nieves from Nieves Latin Dance Studio for the choreography and, TBH, I'd also like to thank Wil for giving me the gift of their amazing dance moves.
"We seriously did have 'the time of our lives'," the couple wrote when they uploaded the video to YouTube. And I had the time of my life just watching. Thanks, guys.