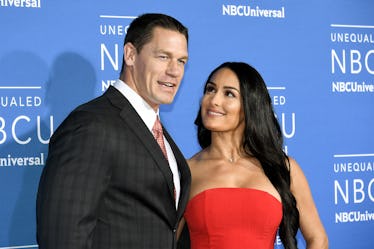 This Video Of Nikki Bella Telling John Cena Why She Can't Marry Him Will Break Your Soul
Dia Dipasupil/Getty Images Entertainment/Getty Images
It's no secret that Nikki Bella and John Cena are going through some ups and downs right now. These two pro wrestlers were scheduled to marry in early May 2018, but called off the wedding just four weeks prior. And now, die-hard fans of the couple are seeing the breakdown of this cherished relationship via their reality show, Total Bellas. In a new clip from the show, fans got to see Bella and Cena at their most vulnerable. It's a must-see for the simple fact that the two really open up and you get a sense of how much they care for each other. Basically, this video of Nikki Bella telling John Cena she can't marry him is heartbreaking and a lesson to everyone to communicate in relationships.
In the video, which was published by E! on YouTube, shows Bella and Cena having an intimate conversation about marriage and parenthood. Over the course of their relationship, Bella and Cena reportedly had trouble seeing eye-to-eye when it came to having children. This, in turn, led to relationship issues that couldn't be resolved in time for their May 2018 wedding.
Here's what Bella says in the video:
I was thinking of getting back into therapy. I was doing so well with it. When I did the therapy back in the day, I really thought I was OK not being a mom. It's just been growing in me and I've just been trying to push it to the side.
Watch the video:
Sadly, for the most of the video, Bella is in tears as a rather solemn Cena listens to what she has to say. After hearing her out, Cena offered some words of sympathy and compassion:
Nicole, it shouldn't be a situation of you trying to push feelings to the side. Think of it in a different context, I guess. Think of it as like a, 'I love this person, but...' I'm trying to push the 'but' to the side.
It sounds as though Cena recognizes that Bella compromised her dreams of motherhood for him and wants her to really consider what that means for her future. You have to give him credit for that approach. Unfortunately for Bella, it's difficult for her to imagine a life without Cena:
But I just can't imagine my life without you, John. I just can't imagine not getting married and spending the rest of our lives together.
That's so incredibly sad. But it's not all bad news for Bella and Cena. Earlier in May, there were reports that the couple had gotten back together.
At the time, a source close to the couple told People that canceling the wedding was a "wake-up call" for the couple:
They both got a wake-up call once they canceled the wedding, and they both realized they could fix what was broken.
The rekindled romance was also, in part, the result of Cena's comments on the Today Show where he said that he loved Bella and wanted to have children with her:
I don't want anybody else. I love Nicole. I'm really trying to support her in her trying to find whatever it is she wants that made this fall apart in the first place, and in doing so, I'm also just trying to live. But I don't have any other hopes, other than one day that we can work it out … For anyone who's speculating what's going on. I love her, I want to be with her. I want to make her my wife. I want to be the father of her children. I just want us to work.
Bella and Cena are so clearly in love that it's hard to imagine them apart for very long. Thankfully, they've found a way back to each other, which is so awesome to see.