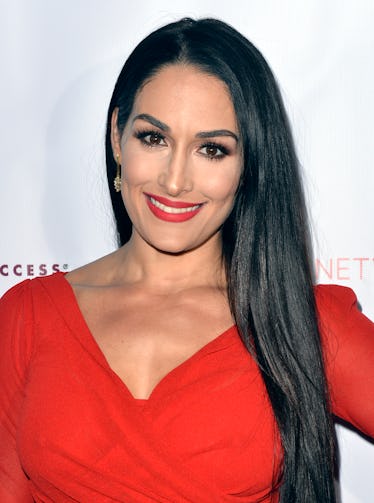 This Video Of Nikki Bella Babysitting On 'Total Bellas' Proves She'd Be The Best Mom Ever
Jerod Harris/Getty Images Entertainment/Getty Images
If you've been paying any attention at all to the ongoing saga of Nikki Bella and John Cena's relationship, then you definitely know these two facts: Bella desperately wants to be a mom and Cena has been iffy about becoming a parent. And that, as expected, has caused some problems for the couple. It's part of the reason they called off their May 2018 wedding. So, given all of that drama, what happens when Bella gets a taste of motherhood? She's totally in her element, as is obvious from this video of Nikki Bella babysitting her niece, Birdie.
The babysitting adventure came courtesy of Bella's sister, Brie, who was in the midst of moving and needed a trustworthy person to look after her one-year-old daughter. Cue in Nikki Bella: pro-wrestler, glam girl, and the future best mom ever.
In a new video from E!, the world got a glimpse of Bella's caregiving skills on Total Bellas. Here's how Bella's sister set the scene:
Brian and I have sold our Phoenix home, but it's so hard to pack and have a baby. So, for the first time ever, Brian and I are leaving Birdie. It's really good timing for her too because she wants to be a mom and that's why she's going through this whole situation with John. Here you go, Nicole. Let's see if you really want it.
Hmm, doesn't seem like she has that much faith in Bella's parenting skills. Not yet anyway. From the video, though, it's pretty easy to see that Bella loves kids. And she's especially enamored by her niece, so much so that she's hardly paying attention to a word her sister is telling her.
But it's all good because the video is super cute and Bella is incredibly responsible.
Here's a look at the adorable video:
Well before Bella called off her marriage to Cena in April 2018, the two have gone back and forth on the idea of becoming parents. Cena has always been adamant about never having children. Meanwhile, Bella has remained equally adamant about wanting to be a mother one day.
That the two couldn't see eye to eye on the matter caused a slight rift in the relationship, and they decided to cool things off for a while.
Apparently, that cooling off period did a lot of good for them both because in the two months since they called off their wedding, Cena has completely changed his tune on becoming a dad. He told Today,
I'm willing to go back on all of these things I said, and a lot of things I was holding on to just out of stubbornness — 'I won't have kids' — and it took a really strong look in the mirror for me to be like, 'Why?' This person is my number one, and it's something that's very valuable to her, and of course we can do this ... All of that switched because I love her. She's my number one and I just want to make her happy.
So, there's still hope for Bella and Cena to have a happily ever after. Although they split briefly from April to May 2018, the couple has rekindled their romance and is reportedly working through their issues. In late May 2018, their reps gave a very brief update on the relationship:
Nikki Bella and John Cena are working on their relationship and taking it day by day. They appreciate all of their fans and their continued support.
Clearly, there's still some unfinished business between Cena and Bella. Hopefully, they can work it out all out and find happiness.