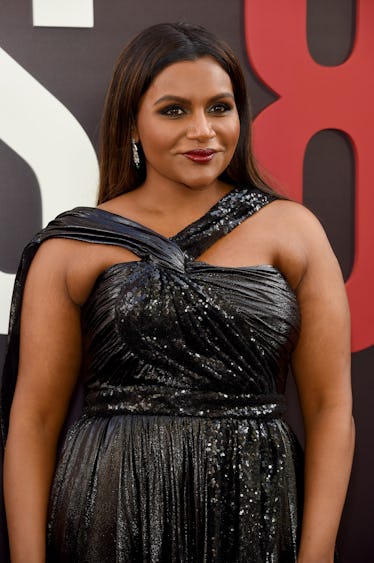 Mindy Kaling Dragged Donald Trump In Her Dartmouth Speech & It Was So Real
Jamie McCarthy/Getty Images Entertainment/Getty Images
I didn't know that it was possible to love Mindy Kaling more than I already do, but yet again this funny lady proves that she can always outdo herself. The Ocean's 8 actress delivered the commencement address at Dartmouth College on June 10, and she couldn't resist taking this opportunity to crack a joke at our president, as well as inspire the graduating class. This video of Mindy Kaling's Dartmouth commencement speech is so perfect, and if you haven't watched it already I suggest you do so now.
Kaling, who is an alumna of Dartmouth College, delivered her address on the school's New Hampshire campus on June 10. As is typical for any college commencement speech, the guest speaker is expected to offer the graduating students words of inspiration and encouragement as they enter into the next chapter of their lives. But with President Donald Trump currently holding office, graduation speeches have also been a place where commencement speakers take the liberty to comment on how they feel about the state of our country and world.
In Kaling's speech, the actress expressed how she really feels about Trump by making a hilarious dig about him and the reality that the world is kind of a depressing place right now. She said,
You're graduating into a world where it seems like everything is falling apart. Trust in institutions are at a record low, the truth doesn't seem to matter anymore, and for all I know, the president just tweeted us into a war with Wakanda. A country that doesn't exist.
But she also turned it positive, by... comparing herself to the president. "I'll tell you my secret, the one thing that keeps me going, my superpower: delusion," she says at a little after 11 minutes into her address. "This is something I may share with our president, a fact that is both horrifying and interesting." Which was just perfect. But then she took it somewhere even better. She continued,
Two years in I think we can pretty safely say that he's not getting carved onto Mount Rushmore. But damn if that is not a testament to how far you can get by just believing that you are the smartest, most successful person in the world. ... You have to have insane confidence in yourself, even if it's not real.
Wow. That comparison was legitimately inspirational. 2018 is a strange place.
Kaling isn't a stranger to making fun of Trump, though. Earlier this year in January, Kaling poked fun at the president for saying that he's "like, really smart" in a set of tweets. Trump stated via the social media platform,
Actually, throughout my life, my two greatest assets have been mental stability and being, like, really smart. Crooked Hillary Clinton also played these cards very hard and, as everyone knows, went down in flames. I went from VERY successful businessman, to top T.V. Star to President of the United States (on my first try). I think that would qualify as not smart, but genius....and a very stable genius at that!
In response to Trump's tweet, Kaling posted a picture of herself in a scene from the TV show The Office, where her character Kelly Kapoor also boasted about her smarts just like the president. "You guys, I'm like really smart now, you don't even know," Kaling's character says in the image caption. And it was the absolutely perfect way to troll Trump for his seemingly premature tweet.
So knowing this, her Trump joke during her Dartmouth commencement speech was to be expected. But Kaling didn't use the stage just to make fun of the president. She also took the opportunity to offer some more inspiring words for the class of 2018. But, because it's Kaling, she obviously provided plenty of laughs along with her encouraging remarks. Kaling said,
Don't be scared if you don't do things in the right order, or if you don't do some things at all. I didn't think I'd have a child before I got married, but hey, it turned out that way, and I wouldn't change a thing. I didn't think I'd have dessert before breakfast today, but hey, it turned out that way and I wouldn't change a thing.
Kaling is just seriously a national treasure. She doesn't take herself too seriously and is clearly living life on her own terms. The choices she's made in her life and the trajectory of her career is so motivational, and I wish that she were my commencement speaker when I was graduating college. Hey, at least this video of her speech exists, so I can pretend as if she was. Thanks, Mindy.