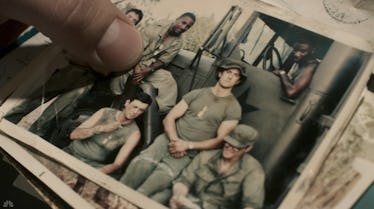 The 'This Is Us' Creator Just Gave Fans A Behind-The-Scenes Look At Jack In Vietnam
NBC
Gone are the days when we thought Jack on This Is Us was "just a mechanic" in the Vietnam War. Season 2 clarified that toward the end of his life, Jack was still so shaken about his experience as an active soldier in the war that he rarely spoke about it with his family. While Jack's relationship with his brother, who presumably died while fighting alongside him in the war, will be a highlight of the upcoming third season, fans have also pored over any glimpse of Jack at war that the show has revealed so far. In the latest clue about this storyline, this video of Milo Ventimiglia as Jack in Vietnam has fans swooning over his heroicness captured in the clip.
This Is Us creator Dan Fogelman recently tweeted a short video clip of Emmy nominee Ventimiglia in a helicopter, dressed in his army greens and equipped with a gun. Ventimiglia, as Jack, peers out of the aircraft before making some quite fierce eye contact with the camera. Cue the chills of this entire fandom.
In the Season 1 finale, viewers learned that Jack met Rebecca shortly after returning from war and, as we now know, most likely seeing his brother die on his own watch. Thanks to recent first look photos of Season 3, fans also know that Jack and Rebecca went on their first date immediately after spotting each other across a bar. In the photo showing the new pair at a carnival, Jack looks strong and brooding in a leather jacket, which makes me wonder if, despite this instant connection with Rebecca, he's afraid to grow close to her because of what he experienced overseas. The stoic expression in the photo also matches what we see in Fogelman's clip of Jack in an army helicopter.
While the comments on the video include fans' own encounters with war (and even a clever fan theory about Jack crossing paths with John McCain while in Vietnam), other viewers can't help but gush over how handsome Ventimiglia looks in his uniform. To be fair, there isn't much that he doesn't look great in.
The show venturing into the past for insight on Jack in Vietnam is set to parallel Kevin's own trip to the country in Season 3. After playing a soldier in a Ron Howard movie and struggling with addiction as Jack did, Kevin never meeting closure about Jack's death could likely be inspiration behind him taking this trip in the near future. While Kevin likely delves into Jack's past in Vietnam, Jack's storylines in the 1970s and beyond will follow his attempts to keep himself together following the war. In an interview with Entertainment Weekly, Ventimiglia said of Jack's upcoming plot:
Jack is holding onto a lot. Anyone who is in the theater of war is experiencing things that a civilian on the streets has no idea about. War is horrible, and if you're right there in the middle of it to see the atrocities, you can't not be impacted by it. So only getting a glimpse of Jack hopping out of a helicopter with an M16 rifle, looking like he's in the s—, he wasn't just a mechanic.
Despite this confirmation that a darker period of Jack's past will be featured in Season 3, cast and crew have also promised that the season will be "lighter" and "more fun" than the particularly ominous second season. Sure, we'll probably watch Jack's little brother die and feel our hearts break when Jack tries to assimilate back to life at home, but other than that, Season 3 will be a breeze! BRB, buying my tissues now.
Season 3 of This Is Us premieres on Tuesday, Sept. 25 at 9 p.m. ET on NBC.