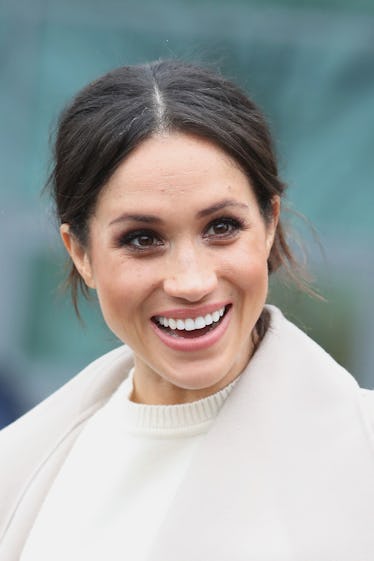 Meghan Markle Once Starred In A Tostitos Commercial & The Video Is Too Much
Chris Jackson/Getty Images Entertainment/Getty Images
I have officially died and went to heaven, because two of my favorite things have officially come together in the best way possible. Do you love Meghan Markle? Do you love Tostitos chips? If so, then you're going to freak the eff out when you see this newly surfaced video of Meghan Markle's Tostitos commercial from many moons ago.
Chips. And Meghan Markle. Together! My dream is a reality.
So this commercial, which seems to be from 2009, shows the Suits actress in a grocery store, checking out the back on a bag of chips, unhappy with the amount of ingredients. The voiceover (which is definitely not Markle) said, "13 ingredients? That's more people than I invited to the party. Unless ... Denise brings Gary. Ugh, Gary. Those short shorts."
It's always a Gary, amirite?
Anyway, Markle puts the bag of unnamed brand chips back on the shelf, then lays eyes on Tostitos Scoops (a personal favorite).
The voiceover then names three simple ingredients on the back of the Tostitos bag, saying, "Yeah. Three ingredients is good," and proceeds to happily walk down the aisle with her Tostitos in hand (well, cart).
It's all so, so glorious, and I think the only way you can understand is if you watch the 32-second commercial and see for yourself:
Bravo, Markle! Not only did she totally nail the commercial, she actually made me want a bag of Tostitos, so job well done on that.
Markle is no stranger to the spotlight. Aside from her role as Rachel Zane on Suits, she was also a briefcase model on Deal or No Deal for a brief period of time back in 2006. In an interview with Esquire in 2013, she told the magazine that she was on the show simply "to try to make ends meet." She said,
I would put that in the category of things I was doing while I was auditioning to try to make ends meet. I went from working in the U.S. Embassy in Argentina to ending up on Deal. It's run the gamut. Definitely working on Deal or No Deal was a learning experience, and it helped me to understand what I would rather be doing.
She also said that she would "end up standing up there forever in these terribly uncomfortable and inexpensive five-inch heels just waiting for someone to pick my number so I could go and sit down," so methinks she's glad that her time on the show is over and is happy to start focusing on more royal duties now that Markle is engaged to Prince Harry.
Moving on then!
Markle has since gone on to do some pretty important things, like becoming a global ambassador as well as using her fame to advocate for other women. In an interview with Elle UK back in 2016, she said,
Were it not for my show and website, I would never have been asked to be a global ambassador for World Vision or an advocate for UN Women, both of which are honours I relish. While most become star struck by A-list actors, you'll only see me in awe of leaders effecting change ... With fame comes opportunity, but it also includes responsibility – to advocate and share, to focus less on glass slippers and more on pushing through glass ceilings. And, if I'm lucky enough, to inspire.
Markle also reportedly wants to set up her own foundation after she becomes a part of the British royal family, with a source telling Vanity Fair that "She is looking at the future and definitely feels she has come to the end of her acting career," adding that "She feels it's time to move on and do something different. It was always her intention to focus on her humanitarian work, but I think her relationship with Harry has accelerated things moving in that direction."
As if we couldn't love her enough already.
Let's raise our glasses to Meghan Markle, who will undoubtedly bring the royal family to an entirely new level.
And who knows? Perhaps she'll even bring Tostitos for royal game nights.