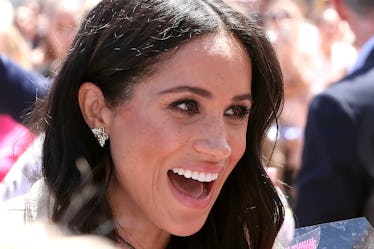 Meghan Markle Broke Royal Protocol For A Young Fan For The Sweetest Reason
Chris Jackson/Getty Images Entertainment/Getty Images
Meghan Markle and Prince Harry are at it again! And by that, I mean breaking royal protocol. The happy couple decided to make up their own rules while greeting fans outside the Sydney Opera House in Australia. When Harry spotted Meghan's mini-me in the crowd, he called his wife over to greet the little girl and take a picture with her. And this video of Meghan Markle breaking royal protocol will definitely warm your heart!
The royals are currently touring Australia and will take part in honoring the 2018 Invictus Games later in the month. Harry and Meghan arrived in the land down under on Sunday, Oct. 14, but it wasn't until their Tuesday, Oct. 15 visit to Sydney that they met Meghan's mini-me.
While the couple was greeting fans, Harry struck up a conversation with the little girl who was wearing a shirt that said "Girls Can Do Anything" and then he asked her if she'd like to meet his wife. When the girl emphatically said yes, Harry waved Meghan down and urged her to come over. Upon seeing the young girl, Meghan was all smiles and said, "I love your shirt!" And that's when Harry broke one of the royal family's longest standing rules: he suggested that Meghan and the girl take a picture together. Historically, the royal family does not pose for pictures or sign autographs. But the young girl, who bears a striking resemblance to young Meghan, was clearly an exception.
As Meghan and the girl chatted, someone in the crowd explained, "We feel she looks a bit like you when you were younger." At that, Meghan replied, "I was literally just about to say the same thing!"
While all the chit chat was going on, Harry snagged the fan's phone and asked her and Meghan to pose for a picture, which they did!
See the sweet exchange below:
This isn't the first time Harry has called Meghan over to meet a special fan. Back in March 2018, he did the very same thing for 10-year-old Sophia Richards, who is an aspiring actress. When recalling the meeting, Richards said talking to Meghan was "a dream come true." She also detailed the sweet conversation she had with the Duchess.
"Meghan told me that I can achieve whatever I want to achieve and Meghan said she would like to see me on TV when I become an actress," Richards said.
So sweet! Harry and Meghan clearly have a soft spot for children, and that's so fitting because it was just announced on Oct. 15 that they're expecting their first child. Kensington Palace announced the exciting baby news on Twitter. "Their Royal Highnesses The Duke and Duchess of Sussex are very pleased to announce that The Duchess of Sussex is expecting a baby in the Spring of 2019," Kensington Palace wrote.The new royal baby is expected to arrive in early May. Harry and Meghan's baby news comes at a very exciting time for the royal family: Princess Eugenie just tied the knot on Oct. 12 and Kate Middleton's sister Pippa welcomed her first child on Oct. 16. So, the royal family is super busy right now. But at least they're the bearers of positive news, which is always wonderful to hear.