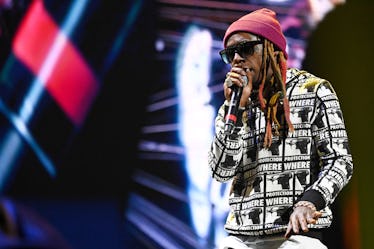 Everyone Should See This Video Of Lil Wayne Rapping With Future About Consent On 'SNL'
Nicholas Hunt/Getty Images Entertainment/Getty Images
If you got the chance to tune into Saturday Night Live's latest episode which aired the evening of Saturday, Nov. 10, you (hopefully) were able to catch at least a glimpse of Lil Wayne's performances. Aside from serving as the show's musical guest for the third time ever, performing hits from his hip hop latest album, "Can't Be Broken" with Halsey, and "Uproar" with Swizz Beatz, the absolute best part of it all was this video of Lil Wayne rapping with Future about consent. If you haven't already seen it, you definitely need to. It's straight-up hilarious, and it has a really nice message.
In addition to fulfilling all his musical guest duties (aka performing on the Studio H8 Stage, Lil Wayne starred in a video called "Permission," and it's actually fantastic. Essentially, the video is all about the importance of consent, as "the Booty Kings," (played by Chris Redd and Kenan Thompson), Uncle Butt (played by Pete Davidson), Future, and Lil Wayne discuss the importance of respecting women, their love for booty, and obviously, the significance of consent.
To give you a better idea of it all, some of the lines include "before we talk booty, talk emotional connection," and "before we get emotional, and putting on protection," LOL, if you know me at all, you know I'm all about this, and if you haven't already had the chance to see it, check it out below. You definitely won't regret it.
OK, in all honestly, though, how awesome was that? Not only do the lyrics slay the game (I don't know if I'm more inspired or tickled by it all), but the tune and beat song is also super catchy. For real, though — I can't stop singing it to myself. Anyway, I never thought I'd say this, but I think Lil Wayne may have just come out with the latest and greatest feminist chant. All hail sir Wayne, one of the most female-forward rappers in all the land.
Now that Lil Wayne has starred in the greatest feminist music videos of all time, my life is basically complete. But, if you're looking for more inspiration, you should definitely check out these eight Netflix shows that totally scream "female empowerment." Between comedies like Orange Is The New Black and Grace and Frankie, as well as dramas like Alias Grace and Jessica Jones, there are so many solid options, and they're literally so good, if you're looking to feel uplifted.
Alright y'all, this might be a hot take, so prepare yourselves. I really think this past episode of SNL might be one of the best ones I've seen in quite a while. Lil Wayne totally nailed his live musical performance (alongside Halsey and Swizz Beatz!) and most importantly, the rapper's "Permission" video was quite honestly hilarious and really, really amazing. If I ever get the chance to see Lil Wayne in concert, there's no doubt in my mind I'll be demanding a rendition of "Permission." Seriously, I don't think his concert would be complete without it.