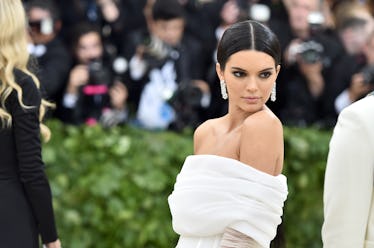 Kendall Jenner Had A Hilarious Reaction After Being Told She Was Going On 'Family Feud'
Jason Kempin/Getty Images Entertainment/Getty Images
Kendall Jenner is one of the most famous faces in the world, but that doesn't mean she's thrilled to just put it on anything. In fact, the Keeping Up with the Kardashians star was absolutely horrified to learn that her family was going to be on Family Feud... and that they wanted her to participate as well! Not only had Jenner never seen an episode of Family Feud (a crime, truly), but Jenner was super nervous about doing a game show. And there's video evidence of her meltdown. This video of Kendall Jenner freaking out about Family Feud will definitely make you laugh.
So, here's a little background info: Back in June 2018, some of the Kardashian-Jenner family appeared on Family Feud. Jenner was there, as were Kim Kardashian, Khloé Kardashian, Kris Jenner, and Kanye West. But now that season 15 of Keeping Up with the Kardashians is airing on E!, fans are getting a glimpse at all the behind the scenes stuff that went down before the family appeared on the game show.
E! released a new clip from an upcoming episode of KUWTK that shows Jenner being asked to appear on Family Feud and then just totally freaking out about it.
"I've never seen it," Jenner says when her sister Kim Kardashian proposes the idea of joining in on the Family Feud fun.
"Kendall, like, oh my god. I'm so excited, if you were to do it," Kim says in response. "This would be so good for us as a family… that feuds."
All is well and good until Kim explains that everyone needs to take turns answering questions on the show.
"It's a turn?! It's a turn?!" Jenner exclaims. "Oh my god! Guys, I can't do this!"
Her older sister Khloé is also on scene to offer a bit of comfort to the 22-year-old. "Kendall, I'll give you the answer," she says.
Here's a look at how it all went down:
Towards the end of the clip, Jenner and Kim appear in an on-camera interview. And Kim reveals how much she loves Family Feud.
"Family Feud… that's my dream of life. Like, this is the best day of my life," she says. And Jenner definitely finds that amusing.
In any case, after Jenner's freak out about the whole Family Feud thing, she went ahead to participate in the show and did a great job.
If you haven't seen it, here's a peek at the preview for the episode:
Just by that quick clip, you can tell the Kardashian-Jenner family had a great time filming the episode. And you definitely get the sense that they all get along really well and love each other's company even if they feud with each other from time to time. Kanye West was most definitely having a great time. I mean, look at that smile!
All in all, it looks as though Jenner didn't have much to freak out about. But I'm sure there'll be some behind the scenes surprises revealed as this season of Keeping Up with the Kardashians moves forward.