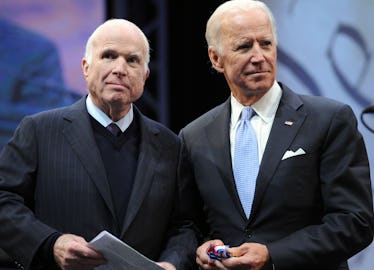 Joe Biden Got So, So Emotional During His Tribute At John McCain's Funeral
William Thomas Cain/Getty Images News/Getty Images
After battling with an aggressive form of brain cancer, Senator John McCain decided to refuse further treatment on Friday, Aug. 24, and he passed away on Saturday, Aug. 25. The life and legacy of McCain was honored with several events spanning from Wednesday, Aug. 29 to Saturday, Sept. 1. On Thursday, Aug. 30, family, friends, and colleagues gathered in Phoenix, Arizona to pay respects to the late senator. Among those in attendance was former Vice President Joe Biden, who eulogized his longtime friend. This video of Joe Biden crying at John McCain's funeral is so meaningful.
Biden and McCain had been friends since they served as colleagues in the Senate for nearly two decades, before the two ran on opposite tickets in the 2008 elections. Their friendship, though, was not hindered by the party divide. According to NBC News, during their final visit in April 2018 at McCain's ranch in Arizona, McCain personally asked Biden to deliver a eulogy at the services being held in Phoenix. While discussing funeral plans, Rick Davis, McCain's former campaign manager, even told NBC News that Biden "is being treated as a member of a family."
Biden took the podium in Phoenix and said, "My name's Joe Biden, I'm a Democrat and I love John McCain." Which could not be a more perfect description of how their friendship survived and thrived despite their party affiliations. "We were both filled with dreams and amsbtions and an overwhelming desire to make the time we had their worthwhile," said Biden. He then went on to deliver an emotional speech about McCain, how they met, their friendship, and the shared pain of losing him.
Watch Biden pay tribute to his dear friend here:
Among the people also paying tribute to McCain are former President Barack Obama and former President George W. Bush who are both set to deliver eulogies during McCain's service at the National Cathedral in Washington D.C. on Saturday, Sept. 1, according to The Hill.
While two former presidents will be in attendance during Saturday's service, it's unlikely that President Donald Trump will be. According to CNN, McCain made it clear that he did not want Trump to attend his funeral. It's not surprising that McCain had such strong views on the prospect of Trump being a part of his services. The two have been at odds since Trump's campaign in 2016. McCain spent five years as a prisoner of war during Vietnam, and during the campaign trail, Trump, who received five draft deferments during the war in Vietnam, said that McCain was not an actual war hero because he was captured, according to Business Insider. "He's not a war hero. He's a war hero because he was captured. I like people that weren't captured," Trump infamously said at an Iowa campaign event in 2016.
Trump posted his sympathies on Twitter on the day of McCain's passing, but held off on giving an official statement. It wasn't until two days later that Trump delivered a statement. According to CNN, the president said, "Despite our differences on policy and politics, I respect Senator John McCain's service to our country." Trump also added that Vice President Mike Pence would be there to represent the White House at McCain's service on Friday, Aug. 31. in D.C.
While McCain and Trump clearly had some disdain towards each other, it's clear that McCain had a lot of friends in D.C. who did not let bipartisan issues get in the way or their relationship, or paying their respects to the late senator.