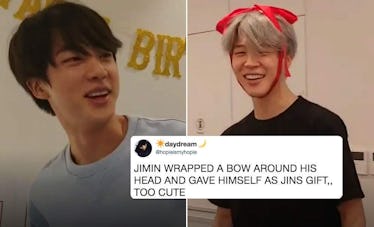 BTS' Jimin, RM, & J-Hope Crashed Jin's Birthday Livestream In The Most Hilarious Way
BTS fans around the world celebrated Jin's birthday with an onslaught of loving messages, the inception of the Jin cult, and even a trending hashtag yesterday. But no one celebrated the K-Pop star's birthday quite like his fellow bandmates. Many of the guys from BTS celebrated Jin's birthday in their own special way, including interrupting his gaming livestream with fans on VLive... but only for sweet reasons! The video of Jimin and BTS crashing Jin's birthday livestream will definitely make you smile.
In the video, which you can watch with subtitles here, you can see birthday boy Jin playing a game called Power Flipping Stones surrounded by Jin cult imagery (Big Hit staff deserves all the awards for keeping up with fandom efforts to this level). Anyway, Jin is playing his game with a whole bunch of fans — 5.6 million, to be exact — and having a great time. But about three minutes into the livestream, Jimin enters the scene looking all types of adorable wearing a red bow wrapped around his head to present himself as a birthday gift to Jin. It's hilarious, but also really thoughtful!
"You said, 'I don't care about a gift as long as I'm with you,'" Jimin tells Jin in the video. He's obviously trying to be cute about the whole thing, but Jin definitely takes it in stride and goes along with the joke. Too funny!
The two guys eventually hug it out, and Jin even tries to open his gift by tugging playfully on Jimin's hair, which is super sweet! Shortly after, around four-and-a-half minutes into the video, RM joins Jin and Jimin. RM's wearing a huge coat, a scarf, and a hat, which prompts them to joke about going to Alaska.
"I'm on my way to Alaska, I wanted to shake your hands before I leave," RM jokes.
You can watch the whole video down below (but you'll have to head over to VLive to watch the whole video with subtitles):
After RM and Jimin take their leave, Jin returns to his game only to be interrupted once more by J-Hope just five minutes later. J-Hope comes in to wish Jin a happy birthday with a bit of a spanking — 27 smacks for 27 years. Funny stuff! (NOTE: While having been born on Dec. 4, 1992, makes Jin's international age 26, in Korea, you're 1 year old on the day you're born and get a year older every New Year's day. That's why J-Hope doles out 27 slaps). After some back and forth banter, J-Hope presents Jin with a cake which Jin really loves, obviously!
Then, about an hour into the video (58 minutes in, actually!), RM returns without all his cold-weather gear to make Jin some birthday coffee and to offer Jin some moral support as he flounders trying to win his game (let me tell you, you don't need to know Korean to follow along because Jin's reactions to losing are universal).
Jin ultimately resigns from playing his game because he can't win with all these birthday distractions. He even jokes that all those millions of fans just watched him lose — and on his birthday!
BTS' antics got a huge response from fans, especially on social media. So many BTS fans took to Twitter to share their reactions to Jin's birthday livestream and it's obvious that they really loved it. Here's a look at what people have been saying on Twitter:
Needless to say, the BTS ARMY was so happy to see Jin livestreaming for his birthday and probably even happier to see most of the BTS guys sharing in on all the fun. And Jin himself seemed incredibly grateful that so many people wanted to share in his birthday festivities, even if he did lose at his game. At the very least, it looks like Jin had a wonderful birthday which is all anyone can hope for, right? Happy birthday, Jin!