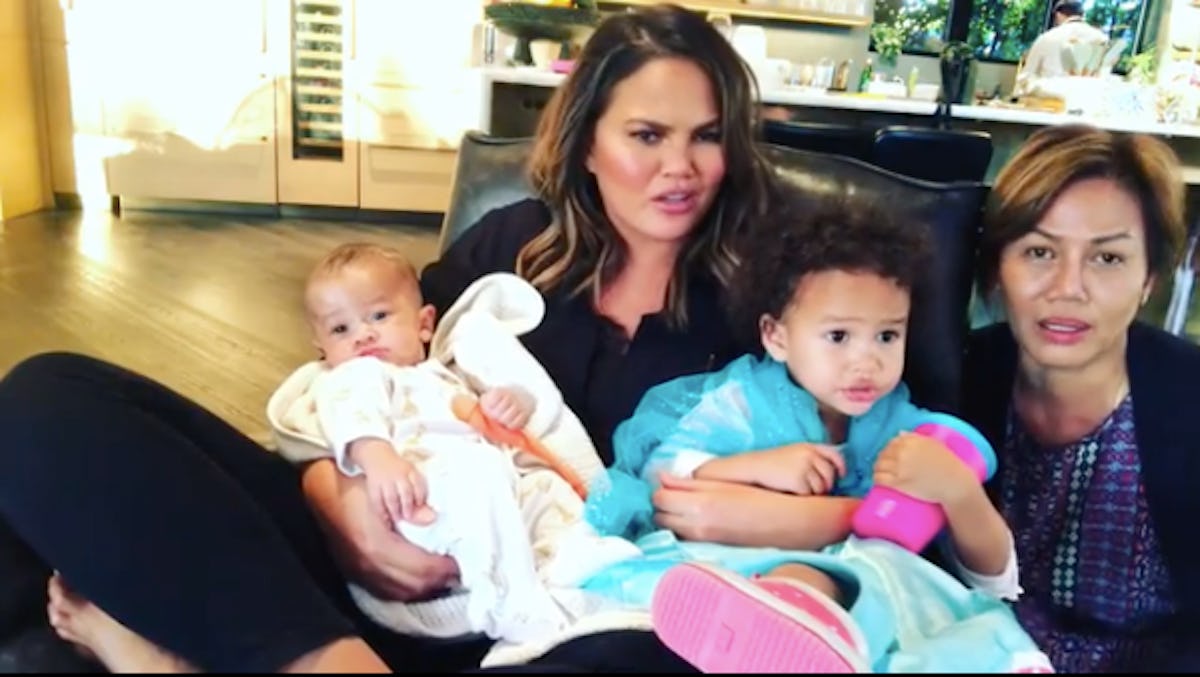 Chrissy Teigen Tried To Film A Vlog With Her Kids, But Luna Wasn't Having It
Chrissy Teigen / Instagram
How do I love Chrissy Teigen? Let me count the ways. She's basically a superhero, juggling a career and a family, and showing her fans the hilarious day-to-day things she encounters while balancing both aspects of her life. But today, the focus is going to be all about the Lip Sync Battle commentator and her two adorable kids, because this video of Chrissy Teigen, Luna, and Miles is just too hilariously pure for words and will make anyone who knows a toddler go, "Same."
On Thursday, Oct. 4, Chrissy Teigen took to Instagram to show off a failed attempt at a vlog she was filming with her daughter, 2-year-old Luna, her son, 4-month-old Miles, and Teigen's own mom, Vilailuck Teigen.
Things start out totally fine, with Teigen holding Luna in one arm and Miles in the other (looking super precious, I might add) as the camera pans out to show Vilailuck (known adoringly as Yāy) sitting down next to her daughter and grandchildren.
"Hey guys, welcome to our YouTube channel," Teigen says to the camera, introducing everyone in the frame. But as soon as Teigen says her daughter's name, Luna gets very visibly annoyed.
"No, don't say me!" she yelled. Clearly, this toddler wants nothing to do with this video, so Teigen apologizes and says that the new show is now the "Miles and Chrissy and Yāy Show, and a girl in a blue dress."
As you can tell, Luna is not amused:
But ohmygod look at Miles. I want to steal him.
"Today, our topic is... the girl in the blue dress's boots!" Chrissy continues, because, well, I guess she was trying to film a video about Luna's shoes. But Luna was like "LOL, nope."
"No, don't say that!" Luna yells at her mom, aggravated that she's even been brought up at all in the conversation.
Naturally, Chrissy Teigen starts laughing at the outburst (because toddlers), and says, "Well, that concludes our episode of Yāy, Miles, and Chrissy and a girl in a blue dress."
But Luna, catching on to her mom's tricks, gets the last word in, telling mom, "Don't say a blue dress!"
The video ends with Teigen and her mom cracking up, because what the hell else can you do but laugh when an angry 2-year-old dictates what you can and can't say? If you feel like laughing today, do yourself a favor and watch the whole thing fail horribly below:
It's so refreshing to see a celebrity be so open about the fact that their life is by no means perfect, and Chrissy Teigen is the unadulterated champion of it.
Back on July 2, she even took to Instagram to clap back at all the haters who were mom-shaming her by posting a photo holding both Luna and Miles, with a caption that pokes fun at the fact that she'll essentially get called out for nearly everything she does when it comes to her children. She jokingly wrote,
Should I post the one where his head looks unsupported but my face looks good and Luna is over it, the one where his head is supported but my face is just okay and Luna is over it, or him crying and my face looks okay and luna is over it?
You tell 'em, Chrissy!
And if I'm being honest... keep those vlogs coming. I have a feeling your fans will love you even more for it, if that's even possible.