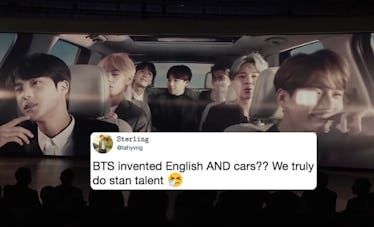 BTS Looks Smoking Hot In This New Ad That Just Dropped, So Prepare To Swoon
What is it with car commercials around the holidays? They always make me cry! Usually, I feel like there are two kinds of people in this world — people who can identify and know the difference between car brands, and then people like me who have never paid attention to the shape of their headlights in their whole life. But, all of that is changing thanks to BTS' new car commercial. Now, I want — nay, need — a Hyundai Palisade SUV. The video of BTS' Hyundai Palisade ad is full of everything you want out of a great commercial. It features a sexy car, the world's best boy group, and a sincere message about the importance of family. I had to call my brother and mom after watching the guys love all up on each other, because hey — it's the holidays, and BTS told me too.
Realistically, fans should have seen a car endorsement coming from the BTS crew. They're arguably the most popular musical group in the world right now and it was only a matter of time before they collaborated with a power company (a South Korean power company, at that!). Hyundai Motor seeking them out to be their Global Brand Ambassadors for their new flagship SUV makes a lot of sense. What is surprising is how truly inspiring and incredibly cinematic the commercial really is.
First of all, the video (which was streamed during Hyundai's car show on Nov. 28) is three minutes long, so already you know we're not talking about a run-of-the-mill silly-willy TV commercial. Second, it opens up by featuring the band first. We don't even get to the car until the 45-second timestamp. For the first few moments, viewers can hear fans erupting in uproarious applause and see glimmers of BTS' concerts. Then, simple white text slowly appears on the screen. It says:
BTS... presents... a truly... remarkable... SUV... Hyundai Palisade... Let the show begin.
Very dramatic. Very Hollywood.
Next, the camera fades in on Jungkook sitting behind the wheel whistling the beginning pieces to the group's hit song, "DNA." Slowly, the camera pans over each member of the group all chilling out in the spacious SUV. Eventually, they get around to chit-chatting about the meaning and definition of family.
Together, the boys explaining — in English! — that you don't have to be blood-related to be family. For them, a family is a combination of loving and respecting the group you're in and knowing you're stronger together. At the end of the touching segment, RM explains, "Nationalities, ages, skin colors. They're all welcome in today's definition of family."
Preach, RM. Also, BTS invented English and that is a fact. I'm not here to debate. *swoon*
OK, here's the masterpiece in its totality:
You love it, right?
I've only been into K-pop a short amount of time, but I feel like I've watched Jungkook, V, Jimin, RM, J-Hope, Suga, and Jin grow up before my eyes.
Traveling the world? Crushing awards shows? Topping the Billboard charts? And now, a car commercial for the holidays? I don't know what the boys could do to heighten their careers from here, but I'm sure if anyone can figure it out, it's them.
Guess I gotta go buy a Hyundai now. Ugh.