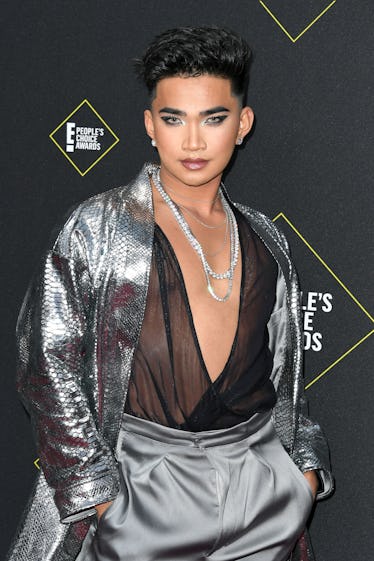 Bretman Rock Let His Boyfriend Do His Makeup & The Result Is Honestly Adorable
Jon Kopaloff/FilmMagic/Getty Images
Fans of BeauTuber Bretman Rock have been speculating about the makeup guru's boyfriend since he posted cryptic pics of the man's back on his Instagram on Valentine's Day 2020. But, finally, Rock has let fans see a little more of his man. In an adorable video posted on Monday, April 13, Rock's boyfriend does his makeup – although fans still don't get to see this mysterious man's face.
"I know I promised I would never do these types of videos, but honestly, we're in quarantine, b*tch," Rock opens the video. He's rocking his new lime green hair, which he says he'll be changing every week while he's self-quarantining. Then, he "introduces" his deep-voiced boyfriend, whom he reveals he's been dating for a year, but that's where the info ends. The camera is even angled so fans can only see the mystery guy's hands. Beyond that, fans can't even find him on social media, because Rock's man is 100% off the social grid.
Rock only allowed his boyfriend to watch one makeup tutorial in preparation for this video. Wisely, Rock also set out three of each product in advance for his boyfriend to choose from, but that's pretty much where the guidance ends. The first move this mysterious man makes is to apply a lot of Fenty Beauty Pro Filt'r Instant Retouch Primer ($32, Fenty Beauty), leaving the beauty influencer with a very dewy face.
Next up is foundation, for which he chooses a La Mer foundation, like the Soft Fluid Long Wear Foundation SPF 20 ($120, Sephora), also applied liberally. While the hidden boyfriend swipes the foundation over Rock's face, the YouTuber spills the details about how the two met at the mall. After seeing each other on the escalator, Rock's boyfriend asked him to film a video with him for his sisters. "I remember just like telling Kieffer, 'I need to know that boy,'" Rock says. "In a way, I just needed him in my mind. I didn't care if it was a friend kind of thing." From there, the couple danced around each other for about two months before they started going out. "Bretman actually used to kind of stop here and there by the store I used to work at … Every time he would come in, I would get super shy," the boyfriend adds.
"Bubby, can you move on to the next step?" Rock asks after his boyfriend spends a long blending the foundation all over Rock's neck. His boyfriend then applies concealer to his forehead, under-eyes, cheeks, under his lips, and his collar bones. Rock is amazingly down to let his boyfriend figure this out on his own. Next, Rock's boyfriend contours with KKW Beauty's Powder Contour Single Compact ($20, KKW Beauty), applied with a wide brush to Rock's jawline, cheeks, nose, and above his eyebrows. "Babe, I look like an Oompa Loompa," Rock says.
For eyeshadow, the boyfriend wisely chooses Bretman Rock x Wet n Wild Jungle Rock Palette ($15, Wet n Wild) to create a "green moment." Like a true beauty guru, Rock's boyfriend says, "I think that's a little makeup tip, like, maybe you want to dip the brush with one side in the green and then the gold on the other side. That way it's quicker." Judging by Rock's facial reactions, I think it's safe to assume he doesn't agree. His loose eyeshadow technique, which he likens to painting, ends with two mismatched eyes – although his second attempt is better.
Next the boyfriend is ready to conquer the world of blush with Milani Baked Blush in Luminoso ($8, Milani). For a guy with no social media, the boyfriend applies an egirl amount (read: a ton) of blush to Rock's nose, cheeks, above his eyebrows, on his chin, jawline, and collarbones. He might stay away from Rock's BeauTuber world, but this man definitely enjoys a lot of makeup.
Once again pushed to move to the next step by Rock, he starts on the lips using the Kylie Cosmetics' Iced Latte Lip Liner ($12, Kylie Cosmetics). He goes for an overlined look before adding Bretman Rock x Wet n Wild Lip Gloss in Ferocity ($5, Wet n Wild) on top. Then, all that's left to do is set the look with Too Faced Born This Way Ethereal Setting Powder ($33, Sephora). Immediately, the boyfriend drops the ball and gives Rock a cloud of powder on his forehead. Luckily, with a little blending, the damage is temporary. Then, he applies a little more to the tops of Rock's cheeks, giving them a slight, white highlighter effect.
"Not bad for your first time. If you were a makeup artist, I would definitely not go back to you," Rock says honestly. His boyfriend is clearly proud of his work, though, pointing out his eyeshadow shading. Rock, however, ended the video by saying, "Let us know if you want to see more videos with us. Hopefully not." Contrary to Rock's wishes, hopefully fans will get to see (or just hear) Rock's mystery man again. Maybe, if fans are really lucky, Rock will one day do his boyfriend's makeup.