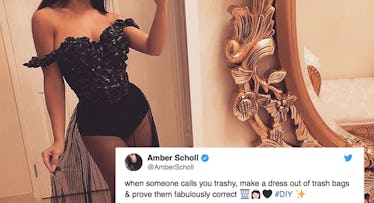 Haters Called This Woman Trashy, So She Made A Stunning Prom Dress Out Of Trash Bags
AMBER SCHOLL
Right before prom, I realized I wanted hair extensions (which in hindsight, I didn't even need). After blowing all the money I could squeeze out of my parents on a dress and accessories, I resorted to counting change and borrowing a few bucks from my brother to buy my extensions. It worked, but this girl's determination to looking fab at her prom is much more impressive. To prove that money can't buy everything, she filmed a trash bag prom dress tutorial where she turned the most basic household essential into a (surprisingly) chic ensemble. The truth is, if this tutorial was around when I was a senior in high school, I wouldn't have had to struggle to get the extensions and a gorgeous dress.
With more than 1.6 million subscribers on YouTube, Amber Scholl says she constantly gets comments on her page that say she's so pretty, she could make a trash bag look good. Well, she took that inspiration as literal as possible and turned a box of trash bags into a wearable dress.
In her tutorial, she makes three stops: Target for the actual trash bags, Macy's for a bodysuit, and Joann Fabric & Craft for tape. Armed with an arsenal of craft supplies, she lays everything out on the floor of her living room and gets to work.
Scholl begins by rolling one mini rosette after another out of strips of trash bags and secures them with tape. To create the bodice, she glues one at a time onto the bodysuit and straps. Finally, she busts out a sheer maxi skirt from her closet and glues larger rosettes along the hem. After showing off her messy workspace, she preps us for the big reveal.
Holy sh*t! She strutted out in her final trash bag dress and I couldn't help but be genuinely impressed. YouTube has this reputation of being a platform for people to post videos of them doing ridiculous things for views (remember those terrible 100 layers challenges?). But Amber Scholl turned it out for this video, and her followers agree.
Comments on her Twitter post include, "I wouldn't have been able to tell she used an actual garbage bag, if she didn't post about it," "a queen of diy and no one can say otherwise," and "is it weird that I'd buy that dress????" And you know what, Kylli, it's not weird that you'd buy this dress!
Scholl used my favorite styling trick of pairing affordable pieces with high-end options to finish the look. Pairing her DIY dress with a pair of Saint Laurent heels, her creation looks good enough to wear to prom, or any black-tie affair, for that matter.
She posted the final look on Instagram with the caption, "When people call you trashy, make a dress out of trash bags & prove them fabulously correct." Though I don't think anyone actually called her trashy (but I guess it could happen, because trolls), you gotta love it.
In case you're feeling crafty and inspired by Scholl's homemade gown, see below for the whole process. It took her an entire day to create the look, but on the other hand, it only took her one day. So, if you have somewhere to be this weekend and can't find anything to wear, consider perusing your local Target's trash-bag selection.
The next time you stress about dressing for an occasion (like prom), and you feel like your outfit isn't cool enough or expensive enough, remember, money can't buy style. Besides, isn't it much cooler to be original anyway? Instead, think outside the box (or in this case, the bag).