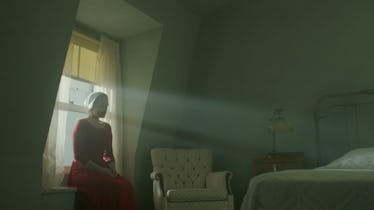 This 'The Handmaid's Tale' Season 1 Recap Will Refresh Your Memory On All Things Gilead
Hulu
Hulu has so much riding on The Handmaid's Tale Season 2. Up until last year, the perception of the big three streaming services was that Hulu was in third place when it came to in-house productions, with Netflix and Amazon being more competitive in that arena. Hulu was where people went to watch TV re-runs… until The Handmaid's Tale arrived last year. Now, it's the first streaming service to win an Emmy for Best Drama. With Season 2 around the corner, it's time to remind us all what happened a year ago with a recap of The Handmaid's Tale Season 1.
But before there was Gilead, there was life as we know it today. June was a young woman in her late 20s in the middle of an affair with a married guy named Luke, who left his wife for her. One reason? She's fertile in a world where infertility has run rampant for decades. They have a daughter. They have a nice apartment in the city. They have a nice life.
Enter the "Sons of Jacob," a terrorist organization. They blow up congress in a series of terror attacks. This causes panic in the government, which leads to the suspension of the constitution and martial law.
Rights begin to vanish for women. They are no longer allowed to have their own bank accounts, their own credit cards, or their own jobs. Their marches are violently suppressed. In a panic, there is a mass exodus to Canada, but before June can get over the border, she is caught.
The Brainwash (The Learning Center)
As one of the "chosen" who can have children, June is trained by "Aunt Lydia" to become a "Handmaid," a bizarre sort of sexual surrogate who is impregnated by a wealthy man and carries the family's children, while the barren wives pantomime pregnancy. Their identities are erased, and they are renamed after their masters. June is given to the Waterford family, whose patriarch is Frederick. Therefore, her name is "Offred."
The Waterfords
The Waterfords were Sons of Jacobs, deeply involved with the attacks, and Captain Waterford has a high place in the new government. (His wife, Serena Joy, once a powerful businesswoman, is now as helpless as Offred, but she'll never admit it.) Despite dutifully doing his duty with Offred on "ceremony nights," no baby is forthcoming. In desperation, Serena Joy starts plotting to have Offred sleep with the chauffeur Nick to get her pregnant. He might (or might not) be an "Eye," aka a government spy.
Ofglen/Emily/Ofsteven
Offred's discovers her shopping mate "Ofglen" is actually a rebel, and part of Mayday, the resistance. She learns the woman's real name is Emily, and she's a lesbian with a wife who got to Canada. But before they can plan, Ofglen is caught out having sex with a Martha (one of the household maids), and disappears. After undergoing castration, she returns to another household, now as "Ofsteven."
Ofwarren/Janine
Meanwhile, another handmaid "Ofwarren" (real name Janine), actually managed to get pregnant and have her master's baby. But her fragile mind snaps and she tries to run off with the baby as her own and then attempts suicide. The Handmaids are brought forth to stone her to death for this transgression, but lead by Offred, they refuse.
Moira
Offred's best friend from before she ran away, back when they were training as Handmaids. Offred believed Moira was sent to the Colonies or was dead, but it turns out she's become a Jezebel, a part of the accepted "escort" class of women. Offred begs Moira to take her package from Mayday of letters from Handmaids begging for help and to smuggle it to Canada. Moira initially refuses, before changing her mind and escaping to Canada, where she find's Offred's husband, Luke.
Mayday
By the end of the season, Offred is pregnant, and it's most likely Nick's. She's also getting in deeper with Mayday, even as Serena Joy threatens her daughter, who is still alive and being raised in Gilead. Then, just as Offred thinks she might get out, a van arrives and takes her away. Is it the Eyes? Did Nick betray her? Or is it Mayday, taking her to freedom?
The Handmaid's Tale Season 2 will answer all. The first two episodes arrive on April 25, 2018, on Hulu, with one episode every week thereafter.